NEWS: 15% of U.S. broadband households have antenna-only TV service
New cord-cutter consumer research from Parks Associates shows the percentage of U.S. broadband households that use only antennas to receive TV has steadily increased since 2013 to reach 15%. 360 View: Entertainment Services in U.S. Broadband Households reveals this increase coincides with a drop in pay-TV subscriptions and an increase in Internet-only video subscriptions.
"Pay-TV subscriptions have dropped each year since 2014, falling to 81% of U.S. broadband households in Q3 2016," said Brett Sappington, Senior Director of Research, Parks Associates. "Several factors have played a part in this decline, including growth in the OTT video market, increasing costs for pay-TV services, and consumer awareness of available online alternatives."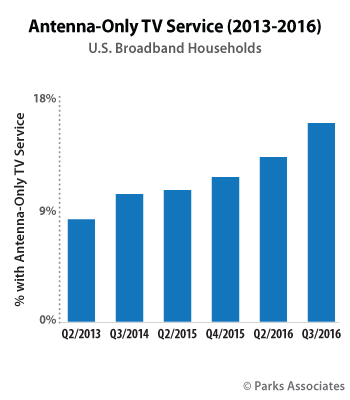 Parks Associates notes declining pay-TV satisfaction in each of the last three years. Only one-third of pay-TV subscribers are very satisfied with their pay-TV service. According to Parks Associates' OTT Video Market Tracker, 63% of U.S. broadband households subscribe to at least one OTT service and 31% of U.S. broadband households have multiple OTT service subscriptions.
"Pay-TV providers are adapting to address a fundamentally different video services market than existed three years ago. Challenges still remain for consumers in aggregating and discovering their favorite content and being able to watch on their preferred screen. Live broadcasts of high-profile events remain a challenge for online delivery, though pay TV and broadcast TV conquered live distribution long ago," Sappington said. "These challenges represent areas in which pay-TV providers, or new entrants, can still win consumer attention, viewership, and revenue."
360 View: Entertainment Services in U.S. Broadband Households examines trends in broadband and pay-TV adoption. It analyzes the impact of over-the-top (OTT) services as well as cord-cutting and cord-shaving on pay-TV services. It quantifies the growing ecosystem of connected entertainment devices in U.S. broadband households and their impact on broadband and video consumption and also assesses consumer demand for new pay-TV features. Additional research shows:
Continue Reading at ParkAssociates.com >>