Weekly Cable Sports Ratings: April 8 - 14, 2019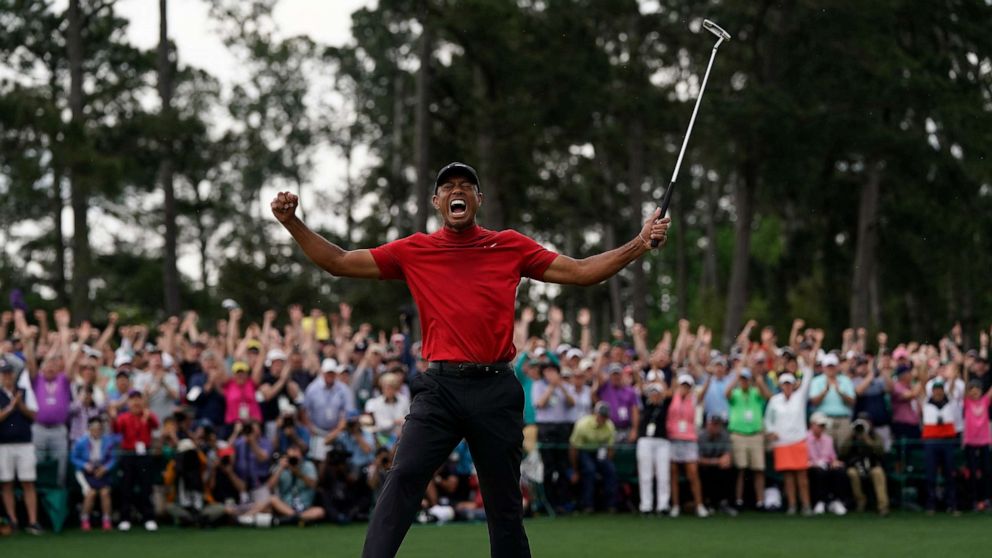 The NBA second season is underway and playoff fever is spreading on cable TV. First round games take six of the first eight spots, with TNT getting the #2 and #3 spots with it's Sunday night primetime games.
ESPN's early coverage of THE MASTERS scored 2.5 million viewers on a Thursday afternoon, ranking 4th, and 3.2 million on Friday, ranking #1. Looking off the chart, CBS scored 10.8 million viewers for its coverage of Tiger Woods winning the prestigious tournament, on Sunday, and 8.6 for Saturday afternoon coverage.
The NHL is also in playoff season and it took four spots in the top 21.
| | | | | | | |
| --- | --- | --- | --- | --- | --- | --- |
| Rank | Day | Show | Net | Time | P2* | A18-49 |
| 40 | Fri | Masters Golf | ESPN | 3:00 PM | 3,228 | 0.57 |
| 1 | Sun | NBA Playoffs: UTA v HOU | TNT | 9:38 PM | 3,040 | 1.27 |
| 2 | Sun | NBA Playoffs: DET v MIL | TNT | 7:08 PM | 2,663 | 1.04 |
| 3 | Thu | Masters Golf | ESPN | 3:00 PM | 2,482 | 0.46 |
| 4 | Sat | NBA Playoffs: ORL v TOR | ESPN | 5:19 PM | 2,444 | 1.02 |
| 5 | Sat | NBA Playoffs: Nets/76Ers | ESPN | 2:40 PM | 2,043 | 0.83 |
| 6 | Sat | NBA Playoffs: SA v DEN | ESPN | 10:30 PM | 1,828 | 0.82 |
| 7 | Sun | NBA Playoffs: IN v BOS | TNT | 1:08 PM | 1,806 | 0.69 |
| 8 | Tue | NBA: HOU v OKC | TNT | 9:39 PM | 1,325 | 0.56 |
| 9 | Sun | MLB: NYM v ATL | ESPN | 7:33 PM | 1,232 | 0.32 |
| 10 | Sat | UFC PPV Prelims | ESPN | 8:00 PM | 893 | 0.39 |
| 11 | Sun | NHL Playoffs: TB/COL | NBCSN | 7:01 PM | 884 | 0.27 |
| 12 | Wed | NBA Playoffs: ORL v CAR | ESPN | 8:13 PM | 873 | 0.34 |
| 13 | Wed | NBA Playoffs: MIN v DEN | ESPN | 10:38 PM | 846 | 0.35 |
| 14 | Mon | MLB: NYY v HOU | ESPN | 7:00 PM | 823 | 0.25 |
| 15 | Wed | NHL Playoffs: PIT v NYI | NBCSN | 7:29 PM | 717 | 0.28 |
| 16 | Sun | MLB: STL v CIN | ESPN | 4:00 PM | 696 | 0.21 |
| 17 | Sun | LIGA MX | UND | 7:00 PM | 694 | 0.29 |
| 18 | Tue | MLB : NYY v HOU | ESPN | 8:00 PM | 688 | 0.21 |
| 19 | Tue | NBA: BOS v WAS | TNT | 7:14 PM | 647 | 0.24 |
| 20 | Thu | NHL Playoffs: TOR v BOS | NBCSN | 6:55 PM | 640 | 0.23 |
| 21 | Fri | NHL Playoffs: PIT v NYI | NBCSN | 7:28 PM | 626 | 0.23 |
| 22 | Wed | Copa MX | UND | 9:56 PM | 623 | 0.28 |
| 23 | Wed | Masters Golf | ESPN | 3:00 PM | 618 | 0.12 |
| 24 | Thu | NHL Playoffs: COL v CAL | NBCSN | 10:06 PM | 556 | 0.24 |
| 25 | Sun | NHL Playoffs: SJ v LV | NBCSN | 10:05 PM | 555 | 0.23 |
| 26 | Sun | PL: Chel v Liv | NBCSN | 11:21 AM | 555 | 0.22 |
| 27 | Fri | NASCAR Xfinity | FS1 | 6:51 PM | 543 | 0.09 |
| 28 | Thu | NHL Playoffs: CAR v WAS | USA | 7:30 PM | 503 | 0.21 |
| 29 | Sat | NHL Playoffs: COL v CAL | NBCSN | 10:30 PM | 491 | 0.22 |
| 30 | Fri | NHL Playoffs: LV v SJ | NBCSN | 10:38 PM | 480 | 0.21 |
| 31 | Wed | NHL Playoffs: COL v TB | USA | 7:00 PM | 475 | 0.17 |
| 32 | Sat | LIGA MX | UND | 9:55 PM | 442 | 0.18 |
| 33 | Sun | Indycar | NBCSN | 4:41 PM | 436 | 0.07 |
| 34 | Tue | MLB: TOR v BOS | ESPN | 2:00 PM | 425 | 0.12 |
| 35 | Wed | NHL Playoffs: LV v SJ | NBCSN | 10:48 PM | 401 | 0.18 |
| 36 | Sun | Masters Golf | GOLF | 2:53 PM | 398 | 0.07 |
| 37 | Wed | UEFA Champs League | TNT | 2:39 PM | 392 | 0.16 |
| 38 | Tue | UEFA Champs League | TNT | 2:39 PM | 388 | 0.19 |
| 39 | Sat | NHL Playoffs: DAL v NAS | CNBC | 6:00 PM | 371 | 0.15 |
| 40 | Fri | NHL Playoffs: COL v TB | CNBC | 7:00 PM | 359 | 0.14 |
* viewership (,000)