Top 200 Primetime Cable: November 19 - 25, 2018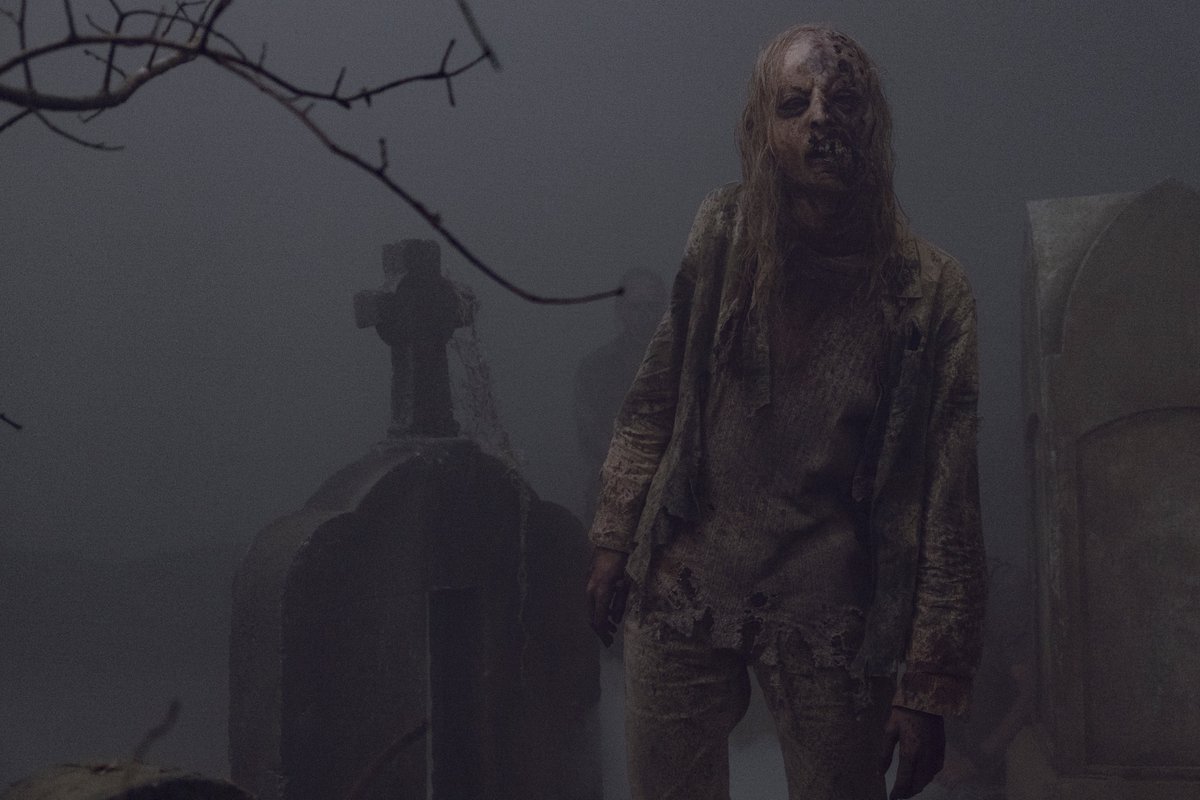 The mid-season finale of THE WALKING DEAD drew 5.1 million viewers and posted a 2.0 rating in Adults 18-49. it was the top scripted original program, ranking fourth overall. Two Hallmark Christmas movies were right behind, taking the #5 and #6 spots, averaging four million viewers each.
A strong Monday Night Football, between Kansas City and the LA Rams, drew a season best 16.6 million viewers and a 5.5 demo rating. that is about triple the next closest program.
CURSE OF OAK ISLAND was this week's top reality series, raking 12th overall and collecting 2.9 million viewers. Second in the genre was GOLD RUSH, ranking 23rd on the chart.
Top 200 Cable Programs:

| | | | | | | |
| --- | --- | --- | --- | --- | --- | --- |
| Rank | Day | Show | Net | Time | P2* | A18-49 |
| 1 | Mon | MNF: KC v LAR | ESPN | 8:13 PM | 16,610 | 5.5 |
| 2 | Mon | Monday Night Kickoff | ESPN | 8:00 PM | 5,871 | 1.8 |
| 3 | Fri | CFB: Oklahoma/W. Virginia | ESPN | 7:58 PM | 5,551 | 1.6 |
| 4 | Sun | The Walking Dead | AMC | 9:00 PM | 5,089 | 2.0 |
| 5 | Sun | Hallmark Original Movie | HALL | 8:00 PM | 4,237 | 0.7 |
| 6 | Fri | Hallmark Original Movie | HALL | 8:00 PM | 3,895 | 0.7 |
| 7 | Wed | NBA: LAL v CLE | ESPN | 8:12 PM | 3,690 | 1.4 |
| 8 | Sat | The Collection From HHOF | HALL | 8:00 PM | 3,525 | 0.6 |
| 9 | Thu | Hallmark Original Movie | HALL | 8:00 PM | 3,266 | 0.5 |
| 10 | Sat | CFB: South Carolina/Clemson | ESPN | 7:00 PM | 3,261 | 1.0 |
| 11 | Wed | Hallmark Original Movie | HALL | 8:00 PM | 2,958 | 0.5 |
| 12 | Tue | Curse Of Oak Island | HIST | 9:00 PM | 2,914 | 0.7 |
| 13 | Wed | NBA: OKC v GS | ESPN | 10:43 PM | 2,890 | 1.2 |
| 14 | Tue | Rachel Maddow Show | MSNBC | 9:00 PM | 2,851 | 0.3 |
| 15 | Mon | WWE Raw | USA | 8:00 PM | 2,721 | 0.9 |
| 16 | Tue | Hannity | FOXN | 9:00 PM | 2,700 | 0.2 |
| 17 | Mon | WWE Raw | USA | 9:00 PM | 2,502 | 0.9 |
| 18 | Mon | Rachel Maddow Show | MSNBC | 9:00 PM | 2,492 | 0.2 |
| 19 | Mon | Tucker Carlson Tonight | FOXN | 8:00 PM | 2,469 | 0.2 |
| 20 | Wed | NBA Courtside | ESPN | 8:00 PM | 2,434 | 0.9 |
| 21 | Mon | Hannity | FOXN | 9:00 PM | 2,379 | 0.2 |
| 22 | Tue | Tucker Carlson Tonight | FOXN | 8:00 PM | 2,366 | 0.2 |
| 23 | Fri | Gold Rush | DISC | 9:00 PM | 2,345 | 0.6 |
| 24 | Sun | Talking Dead | AMC | 10:04 PM | 2,294 | 0.8 |
| 25 | Mon | WWE Raw | USA | 10:00 PM | 2,256 | 0.8 |
| 26 | Tue | CBB: Auburn/Duke | ESPN | 8:00 PM | 2,167 | 0.8 |
| 27 | Tue | WWE Smackdown | USA | 8:00 PM | 2,150 | 0.7 |
| 28 | Wed | Hannity Special | FOXN | 9:00 PM | 2,049 | 0.1 |
| 29 | Wed | Tucker Carlson Tonight | FOXN | 8:00 PM | 2,044 | 0.2 |
| 30 | Tue | Ingraham Angle, The | FOXN | 10:00 PM | 2,023 | 0.2 |
| 31 | Wed | Rachel Maddow Show | MSNBC | 9:00 PM | 1,995 | 0.2 |
| 32 | Tue | Last Word w/ L.O'Donnell | MSNBC | 10:00 PM | 1,994 | 0.2 |
| 33 | Mon | Love & Hip Hop Hllywd | VH1 | 8:00 PM | 1,929 | 0.9 |
| 34 | Fri | Live PD 163 | A&E | 9:00 PM | 1,912 | 0.6 |
| 35 | Sat | Live Pd: 164 Live Pd | A&E | 9:00 PM | 1,900 | 0.6 |
| 36 | Sat | HMM Original Movie | HMM | 9:00 PM | 1,859 | 0.2 |
| 37 | Sun | Real Housewives Atlanta | BRVO | 8:00 PM | 1,855 | 0.8 |
| 38 | Sun | 90 Day Fiance | TLC | 8:00 PM | 1,804 | 0.6 |
| 39 | Tue | All In w/ C. Hayes | MSNBC | 8:00 PM | 1,791 | 0.2 |
| 40 | Tue | CBB Scoreboard | ESPN | 10:07 PM | 1,784 | 0.7 |
| 41 | Mon | Ingraham Angle, The | FOXN | 10:00 PM | 1,777 | 0.2 |
| 42 | Wed | Last Word w/ L.O'Donnell | MSNBC | 10:00 PM | 1,771 | 0.1 |
| 43 | Wed | All In w/ C. Hayes | MSNBC | 8:00 PM | 1,718 | 0.1 |
| 44 | Mon | Last Word w/ L.O'Donnell | MSNBC | 10:00 PM | 1,705 | 0.2 |
| 45 | Sun | Alaska: The Last Frontier | DISC | 9:00 PM | 1,665 | 0.2 |
| 46 | Mon | Holiday Baking Champion | FOOD | 9:00 PM | 1,637 | 0.4 |
| 47 | Fri | Hannity Special | FOXN | 9:00 PM | 1,636 | 0.1 |
| 48 | Fri | Tucker Carlson Special | FOXN | 8:00 PM | 1,560 | 0.1 |
| 49 | Mon | All In w/ C. Hayes | MSNBC | 8:00 PM | 1,551 | 0.1 |
| 50 | Wed | Ingraham Angle Special | FOXN | 10:00 PM | 1,537 | 0.1 |
| 51 | Sun | The Real Housewives/ OC | BRVO | 9:00 PM | 1,509 | 0.6 |
| 52 | Sun | Soul Train Awards | BET | 8:00 PM | 1,465 | 0.5 |
| 53 | Sat | Justice W/ Judge Jeanine | FOXN | 9:00 PM | 1,449 | 0.1 |
| 54 | Fri | Ingraham Angle Special | FOXN | 10:00 PM | 1,435 | 0.1 |
| 55 | Tue | Curse Of Oak Behind Dig | HIST | 8:30 PM | 1,415 | 0.3 |
| 56 | Wed | Prop Bros Buy And Sell | HGTV | 9:00 PM | 1,412 | 0.2 |
| 57 | Tue | Below Deck | BRVO | 9:00 PM | 1,403 | 0.5 |
| 58 | Wed | House Hunters Intl | HGTV | 10:30 PM | 1,370 | 0.3 |
| 59 | Wed | House Hunters | HGTV | 10:00 PM | 1,338 | 0.3 |
| 60 | Sun | Alaska: Last Frontier | DISC | 8:00 PM | 1,321 | 0.2 |
| 61 | Mon | American Pickers | HIST | 9:00 PM | 1,320 | 0.2 |
| 62 | Fri | My Lottery Dream Home | HGTV | 9:00 PM | 1,309 | 0.2 |
| 63 | Sun | Holiday Gingerbread Showdown | FOOD | 9:00 PM | 1,294 | 0.4 |
| 64 | Tue | HMM Original Movie | HMM | 9:00 PM | 1,291 | 0.1 |
| 65 | Wed | Greenleaf | OWN | 10:00 PM | 1,287 | 0.3 |
| 66 | Sat | Greg Gutfeld Show, The | FOXN | 10:00 PM | 1,270 | 0.1 |
| 67 | Tue | CBB: Arizona/Gonzaga | ESPN | 10:30 PM | 1,261 | 0.4 |
| 68 | Tue | House Hunters | HGTV | 10:00 PM | 1,236 | 0.3 |
| 69 | Mon | Christmas Cookie Chlg | FOOD | 10:00 PM | 1,232 | 0.4 |
| 70 | Sat | Tomb Raider | HBO | 8:00 PM | 1,232 | 0.3 |
| 71 | Sat | Watters World | FOXN | 8:00 PM | 1,219 | 0.1 |
| 72 | Sun | Dirty John | BRVO | 10:00 PM | 1,219 | 0.4 |
| 73 | Tue | Little Couple | TLC | 9:00 PM | 1,216 | 0.2 |
| 74 | Sun | Holiday Wars | FOOD | 8:00 PM | 1,211 | 0.4 |
| 75 | Tue | Cuomo Prime Time | CNN | 9:00 PM | 1,205 | 0.2 |
| 76 | Fri | Live PD 163 | A&E | 8:06 PM | 1,190 | 0.3 |
| 77 | Mon | The Real Housewives/ OC | BRVO | 9:00 PM | 1,178 | 0.4 |
| 78 | Sun | Last Alaskans, The | DISC | 10:02 PM | 1,166 | 0.2 |
| 79 | Fri | House Hunters Intl | HGTV | 10:30 PM | 1,164 | 0.2 |
| 80 | Wed | Shattered | ID | 10:00 PM | 1,158 | 0.3 |
| 81 | Fri | House Hunters | HGTV | 10:00 PM | 1,157 | 0.2 |
| 82 | Sat | Lifetime Movie | LIFE | 8:00 PM | 1,152 | 0.2 |
| 83 | Mon | House Hunters | HGTV | 10:00 PM | 1,150 | 0.2 |
| 84 | Mon | Love It or List It | HGTV | 9:00 PM | 1,149 | 0.3 |
| 85 | Sun | On The Case With PZ | ID | 10:00 PM | 1,149 | 0.3 |
| 86 | Wed | Forged In Fire | HIST | 9:00 PM | 1,148 | 0.3 |
| 87 | Tue | House Hunters | HGTV | 9:30 PM | 1,147 | 0.2 |
| 88 | Mon | HMM Original Movie | HMM | 9:00 PM | 1,142 | 0.1 |
| 89 | Tue | House Hunters | HGTV | 9:00 PM | 1,122 | 0.2 |
| 90 | Thu | CFB: Ole Miss/Miss State | ESPN | 7:24 PM | 1,120 | 0.3 |
| 91 | Sun | Hawaii Life | HGTV | 8:30 PM | 1,119 | 0.3 |
| 92 | Mon | T.I. & Tiny:Family Hustle | VH1 | 9:01 PM | 1,116 | 0.5 |
| 93 | Tue | Cuomo Prime Time | CNN | 10:00 PM | 1,113 | 0.2 |
| 94 | Tue | House Hunters Intl | HGTV | 10:30 PM | 1,110 | 0.2 |
| 95 | Fri | Gold Rush: The Dirt | DISC | 8:00 PM | 1,106 | 0.2 |
| 96 | Sun | Keeping Up Kardashians | E! | 9:00 PM | 1,096 | 0.5 |
| 97 | Sun | Bahamas Life | HGTV | 9:00 PM | 1,095 | 0.3 |
| 98 | Tue | Chopped | FOOD | 9:00 PM | 1,090 | 0.4 |
| 99 | Fri | Deadly Women | ID | 9:00 PM | 1,082 | 0.2 |
| 100 | Sat | CFB: South Carolina/Clemson | ESPN | 10:47 PM | 1,078 | 0.3 |
| 101 | Sat | House Hunters Renovation | HGTV | 10:00 PM | 1,068 | 0.2 |
| 102 | Tue | Welcome To Murdertown | ID | 9:00 PM | 1,059 | 0.3 |
| 103 | Sun | Hawaii Life | HGTV | 8:00 PM | 1,056 | 0.2 |
| 104 | Tue | AC 360 | CNN | 8:00 PM | 1,037 | 0.2 |
| 105 | Fri | Lifetime Movie | LIFE | 8:00 PM | 1,033 | 0.2 |
| 106 | Sun | Caribbean Life | HGTV | 10:00 PM | 1,028 | 0.2 |
| 107 | Fri | Last Word W. Lo Spec | MSNBC | 10:00 PM | 1,026 | 0.1 |
| 108 | Tue | Guest Book, The | TBS | 10:30 PM | 1,023 | 0.4 |
| 109 | Mon | AC 360 | CNN | 8:00 PM | 1,022 | 0.2 |
| 110 | Sun | Return To Amish | TLC | 10:00 PM | 1,022 | 0.3 |
| 111 | Tue | Flipping Out | BRVO | 10:00 PM | 1,004 | 0.4 |
| 112 | Mon | House Hunters Intl | HGTV | 10:30 PM | 998 | 0.2 |
| 113 | Wed | Lifetime Original Movie | LIFE | 8:00 PM | 990 | 0.2 |
| 114 | Sun | Ray Donovan | SHO | 9:06 PM | 989 | 0.2 |
| 115 | Fri | All In W. C Hayes Spec | MSNBC | 8:00 PM | 988 | 0.1 |
| 116 | Sun | Blood Runs Cold | ID | 9:00 PM | 985 | 0.2 |
| 117 | Sun | Next Revolution, The | FOXN | 9:00 PM | 983 | 0.1 |
| 118 | Sat | Henry Danger | NICK | 8:00 PM | 981 | 0.2 |
| 119 | Sat | Killer Unknown | ID | 10:00 PM | 979 | 0.2 |
| 120 | Tue | 7 Little Johnstons | TLC | 8:00 PM | 976 | 0.2 |
| 121 | Tue | Clinton Affair, The: | A&E | 9:00 PM | 971 | 0.2 |
| 122 | Wed | Movie- Acquired Prem | LIFE | 10:03 PM | 967 | 0.2 |
| 123 | Tue | Brothers In Arms | HIST | 10:03 PM | 966 | 0.2 |
| 124 | Thu | House Hunters Intl | HGTV | 10:30 PM | 966 | 0.2 |
| 125 | Thu | House Hunters | HGTV | 10:00 PM | 964 | 0.2 |
| 126 | Sun | Bahamas Life | HGTV | 9:30 PM | 964 | 0.2 |
| 127 | Fri | Ancient Aliens | HIST | 8:00 PM | 963 | 0.2 |
| 128 | Mon | Clinton Affair, The | A&E | 9:00 PM | 962 | 0.2 |
| 129 | Sun | Outlander | STARZ | 8:02 PM | 960 | 0.2 |
| 130 | Wed | AC 360 | CNN | 8:00 PM | 958 | 0.2 |
| 131 | Mon | Clinton Affair, The | A&E | 10:01 PM | 956 | 0.2 |
| 132 | Sat | Lifetime Movie | LIFE | 10:03 PM | 939 | 0.2 |
| 133 | Sun | Caribbean Life | HGTV | 10:30 PM | 930 | 0.2 |
| 134 | Sun | The A&E Movie | A&E | 8:00 PM | 928 | 0.3 |
| 135 | Wed | Real Hswives Of NJ | BRVO | 9:00 PM | 923 | 0.4 |
| 136 | Sun | Soul Train Awards post-Show | BET | 10:03 PM | 922 | 0.3 |
| 137 | Mon | Cuomo Prime Time | CNN | 9:00 PM | 918 | 0.2 |
| 138 | Thu | Ingraham Angle Special | FOXN | 10:00 PM | 904 | 0.1 |
| 139 | Wed | Double Dare New | NICK | 8:00 PM | 901 | 0.2 |
| 140 | Tue | Life Below Zero | NGC | 9:00 PM | 900 | 0.1 |
| 141 | Sun | Fox Nation Launch Special | FOXN | 8:00 PM | 899 | 0.1 |
| 142 | Mon | Cuomo Prime Time | CNN | 10:00 PM | 884 | 0.2 |
| 143 | Mon | Long Island Medium | TLC | 8:00 PM | 882 | 0.2 |
| 144 | Wed | AC 360 | CNN | 9:00 PM | 878 | 0.2 |
| 145 | Thu | House Hunters Intl | HGTV | 9:30 PM | 878 | 0.2 |
| 146 | Mon | People Mag Investigates | ID | 10:00 PM | 874 | 0.2 |
| 147 | Mon | Long Lost Family | TLC | 10:00 PM | 869 | 0.1 |
| 148 | Sun | Doctor Who | BBCA | 8:00 PM | 867 | 0.3 |
| 149 | Mon | Street Outlaws: Memphis | DISC | 9:00 PM | 865 | 0.3 |
| 150 | Sun | American Pickers | HIST | 8:00 PM | 861 | 0.1 |
| 151 | Fri | Master Of Arms | DISC | 10:01 PM | 858 | 0.2 |
| 152 | Thu | Hannity Special | FOXN | 9:00 PM | 850 | 0.1 |
| 153 | Sat | Pawn Stars | HIST | 8:00 PM | 846 | 0.2 |
| 154 | Sat | CFB: Kentucky/Louisville | ESPN2 | 7:00 PM | 844 | 0.2 |
| 155 | Fri | Diners, Drive Ins & Dives | FOOD | 9:00 PM | 843 | 0.2 |
| 156 | Mon | American Pickers | HIST | 10:03 PM | 839 | 0.2 |
| 157 | Sun | Lifetime Movie | LIFE | 8:00 PM | 823 | 0.2 |
| 158 | Sat | CFB: Kansas St/Iowa St | FS1 | 7:29 PM | 821 | 0.2 |
| 159 | Sat | Ghost Adventures | TRAV | 9:00 PM | 817 | 0.3 |
| 160 | Thu | Lifetime Movie | LIFE | 8:00 PM | 814 | 0.2 |
| 161 | Tue | Keep It Spotless | NICK | 8:00 PM | 808 | 0.1 |
| 162 | Mon | Teen Mom | MTV | 9:00 PM | 792 | 0.5 |
| 163 | Thu | House Hunters | HGTV | 9:00 PM | 789 | 0.2 |
| 164 | Wed | CBB: Marquette/Kansas | ESPN2 | 7:32 PM | 784 | 0.2 |
| 165 | Thu | Tucker Carlson Special | FOXN | 8:00 PM | 780 | 0.1 |
| 166 | Mon | Mama Medium | TLC | 9:00 PM | 777 | 0.2 |
| 167 | Fri | CBB: Tennessee/Kansas | ESPN2 | 9:48 PM | 766 | 0.2 |
| 168 | Tue | Real Country | USA | 10:00 PM | 764 | 0.2 |
| 169 | Thu | Live PD Presents: PD Cam | A&E | 10:32 PM | 763 | 0.2 |
| 170 | Mon | AMC Movie | AMC | 6:00 PM | 754 | 0.3 |
| 171 | Sat | Pitbulls And Parolees | APL | 9:00 PM | 749 | 0.2 |
| 172 | Mon | 1990s: Deadliest Decade | ID | 9:00 PM | 747 | 0.2 |
| 173 | Tue | Life Below Compilation | NGC | 8:00 PM | 747 | 0.1 |
| 174 | Tue | The Challenge | MTV | 9:00 PM | 736 | 0.4 |
| 175 | Wed | Storage Wars | A&E | 10:32 PM | 725 | 0.2 |
| 176 | Wed | Storage Wars | A&E | 10:01 PM | 721 | 0.2 |
| 177 | Fri | Lifetime Movie | LIFE | 10:03 PM | 715 | 0.1 |
| 178 | Thu | House Hunters Intl | HGTV | 8:30 PM | 687 | 0.2 |
| 179 | Sun | Kasie DC | MSNBC | 7:00 PM | 683 | 0.1 |
| 180 | Tue | Ink Master | PAR | 10:00 PM | 681 | 0.3 |
| 181 | Sun | CNN Newsroom | CNN | 7:00 PM | 681 | 0.1 |
| 182 | Sun | Movie- Acquired Prem | LIFE | 10:03 PM | 677 | 0.1 |
| 183 | Wed | Knife Or Death | HIST | 10:03 PM | 675 | 0.2 |
| 184 | Thu | Las Vegas Inv: NC v TX | FS1 | 7:30 PM | 674 | 0.2 |
| 185 | Sun | Soul Train Awards Preshow | BET | 7:00 PM | 674 | 0.2 |
| 186 | Fri | Life Below Compilation | NGC | 8:00 PM | 659 | 0.1 |
| 187 | Fri | 90 Day Fiance: 1st Look | TLC | 10:00 PM | 653 | 0.2 |
| 188 | Wed | Storage Wars | A&E | 9:00 PM | 642 | 0.1 |
| 189 | Wed | The Real Housewives/ Dallas | BRVO | 10:00 PM | 629 | 0.2 |
| 190 | Sat | CFB: Byu/Utah | FS1 | 10:30 PM | 626 | 0.2 |
| 191 | Sun | Crikey! Its The Irwins | APL | 8:00 PM | 624 | 0.1 |
| 192 | Sat | Cousins For Life | NICK | 8:30 PM | 622 | 0.2 |
| 193 | Sun | 90 Day Fiance: More To Lo | TLC | 6:00 PM | 614 | 0.2 |
| 194 | Sun | CNN Newsroom | CNN | 8:00 PM | 607 | 0.1 |
| 195 | Fri | Dr Pol | NGW | 9:00 PM | 578 | 0.1 |
| 196 | Sat | My Big Fat American Gypsy | TLC | 10:00 PM | 578 | 0.2 |
| 197 | Thu | Beat B.Flay | FOOD | 10:00 PM | 574 | 0.1 |
| 198 | Thu | House Hunters | HGTV | 8:00 PM | 565 | 0.1 |
| 199 | Sun | Freeform Movie | FREE | 9:00 PM | 562 | 0.2 |
| 200 | Fri | LMN Movie | LMN | 8:00 PM | 561 | 0.1 |
* - Viewership (,000)