Top 15 Cable Sports Events: December 9 - 10, 2017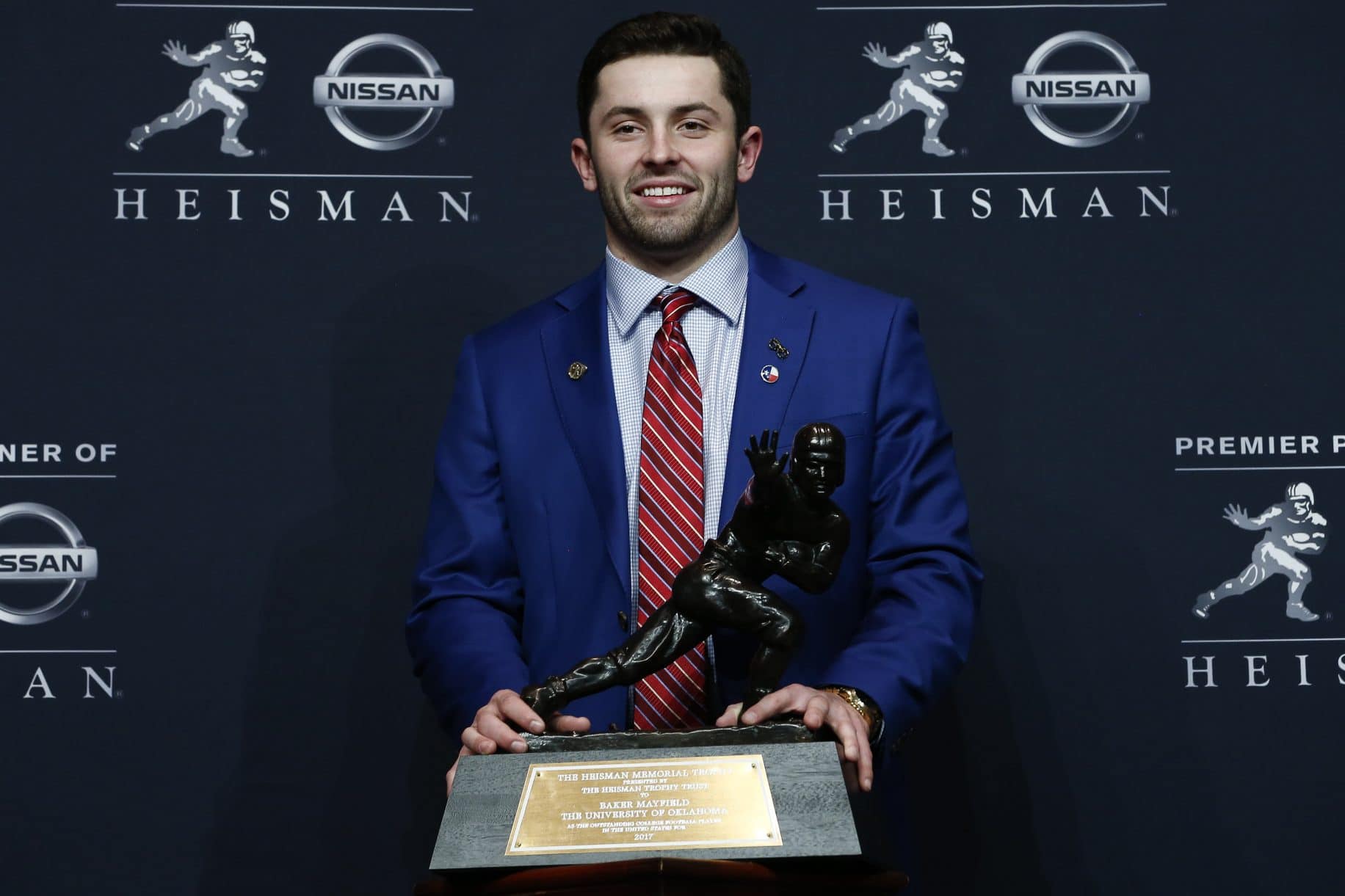 The 2017 Heisman Trophy Presentation, on ESPN< was the top sports event of the weekend, drawing a solid 2.2 million viewers and a 0.6 rating in Adults 18-49. That is down from
last year's
2.6 million viewers and an 0.8 demo rating.
Right after the awards presentation, Top Rank Boxing was the second most watched sports event, retaining 1.7 million viewers for ESPN. The A18-49 demographic held steady at a 0.6 rating.
Soccer placed four matches on the chart, two from the Premiere League, one from LIGA MX and a MLS Playoff match.
| | | | | | | |
| --- | --- | --- | --- | --- | --- | --- |
| Rank | Day | Show | Net | Time | P2* | A18-49 |
| 1 | Sat | 2017 Heisman Trophy | ESPN | 8:00 PM | 2,175 | 0.58 |
| 2 | Sat | Top Rank Boxing | ESPN | 9:07 PM | 1,730 | 0.59 |
| 3 | Sat | NCAA BKBL: DUKE v BC | ESPN | 12:00 PM | 1,378 | 0.38 |
| 4 | Sat | NCAA BKBL | ESPN | 2:06 PM | 1,332 | 0.36 |
| 5 | Sun | PL Soccer: MAN CITY v MAN U | NBCSN | 11:25 AM | 902 | 0.38 |
| 6 | Sat | UFC Fight Night | FS1 | 10:00 PM | 870 | 0.32 |
| 7 | Sun | LIGA MX: MONT v TIG | UND | 6:30 PM | 853 | 0.38 |
| 8 | Sat | NCAA Football Champs | ESPN2 | 12:00 PM | 849 | 0.17 |
| 9 | Sat | NCAA BKBL | ESPN2 | 8:13 PM | 848 | 0.26 |
| 10 | Sat | NCAA BKBL | ESPN2 | 6:16 PM | 841 | 0.26 |
| 11 | Sat | MLS Playoffs: TOR v SEA | ESPN | 4:05 PM | 803 | 0.32 |
| 12 | Sat | UFC Prelims | FS1 | 8:00 PM | 707 | 0.21 |
| 13 | Sat | NCAA BKBL: AL v AZ | ESPN2 | 10:09 PM | 705 | 0.26 |
| 14 | Sun | PL Soccer: EVER v LIV | NBCSN | 9:12 AM | 594 | 0.25 |
| 15 | Sat | NCAA BKBL: WICH ST v OK | ESPN2 | 4:00 PM | 515 | 0.12 |
* viewership (,000)