Primetime Cable Ratings: June 5, 2017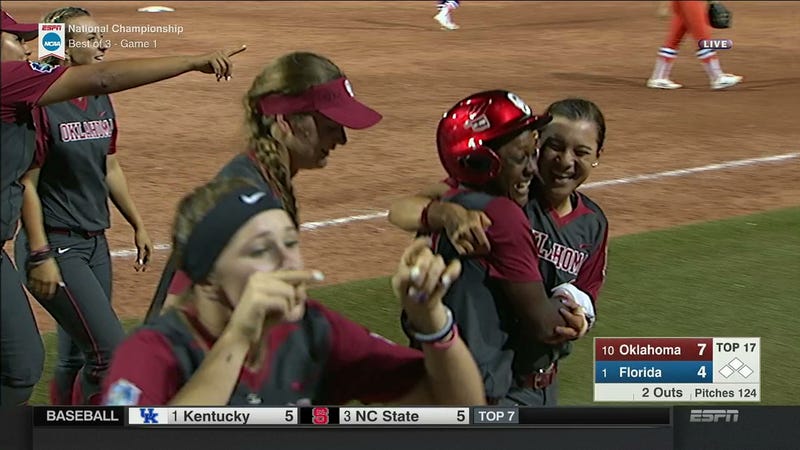 The marathon game one of the College Softball World Series, collected a relatively strong 1.6 million viewers for ESPN, Monday night. The game went 17 innings, or the equivalent of 2.5 games, with OKLAHOMA winning 7-5. Game two was played on Tuesday night.
WWE RAW was the top program of the night, bringing in a solid three million viewers and a 1.1 rating in Adults 18-49.
VH1 scored good numbers in the demo, with LOVE & HIP HOP grabbing a 1.3 rating in Adults 18-49, the top score of the night, and BASKETBALL WIVES posting a 1.0 demo.
| | | | | | |
| --- | --- | --- | --- | --- | --- |
| Rank | Show | Net | Time | P2* | A18-49 |
| 60 | Women Who Kill | A&E | 9:00 PM | 725 | 0.2 |
| 59 | The Cleveland Show | ADSM | 9:00 PM | 767 | 0.4 |
| 44 | American Dad | ADSM | 9:30 PM | 953 | 0.4 |
| 37 | Bob's Burgers | ADSM | 10:00 PM | 1,084 | 0.5 |
| 31 | Bob's Burgers | ADSM | 10:30 PM | 1,212 | 0.6 |
| 17 | Better Call Saul | AMC | 10:00 PM | 1,633 | 0.5 |
| 25 | Southern Charm | BRVO | 9:00 PM | 1,328 | 0.5 |
| 26 | AC 360 | CNN | 8:00 PM | 1,299 | 0.2 |
| 30 | AC 360 | CNN | 9:00 PM | 1,230 | 0.3 |
| 33 | CNN Tonight | CNN | 10:00 PM | 1,158 | 0.2 |
| 36 | Street Outlaws | DISC | 8:00 PM | 1,085 | 0.4 |
| 8 | Street Outlaws | DISC | 9:00 PM | 2,499 | 1.0 |
| 53 | PJ Masks | DISJR | 8:00 PM | 876 | 0.3 |
| 58 | Sofia the First | DISJR | 8:30 PM | 774 | 0.2 |
| 45 | Live & Maddie | DSNY | 9:30 PM | 951 | 0.2 |
| 18 | Softball WS: OK v FL | ESPN | 7:00 PM | 1,632 | 0.4 |
| 49 | Kids BBQ Champ | FOOD | 8:00 PM | 913 | 0.3 |
| 48 | Diners, Drive Ins & Dives | FOOD | 9:00 PM | 915 | 0.3 |
| 3 | Tucker Carlson Tonight | FOXN | 8:00 PM | 2,974 | 0.3 |
| 7 | The Five | FOXN | 9:00 PM | 2,521 | 0.3 |
| 6 | HANNITY | FOXN | 10:00 PM | 2,667 | 0.3 |
| 55 | FX Movie Prime | FX | 8:00 PM | 816 | 0.2 |
| 29 | Tiny House, Big Living | HGTV | 8:00 PM | 1,244 | 0.3 |
| 23 | Tiny House, Big Living | HGTV | 8:30 PM | 1,372 | 0.3 |
| 20 | TINY House Hunters | HGTV | 9:00 PM | 1,580 | 0.4 |
| 16 | TINY House Hunters | HGTV | 9:30 PM | 1,637 | 0.3 |
| 14 | House Hunters | HGTV | 10:00 PM | 1,788 | 0.3 |
| 15 | House Hunters INTL | HGTV | 10:30 PM | 1,651 | 0.3 |
| 24 | American Pickers | HIST | 8:00 PM | 1,329 | 0.2 |
| 12 | American Pickers | HIST | 9:00 PM | 2,040 | 0.3 |
| 21 | Pawn Stars | HIST | 10:03 PM | 1,449 | 0.3 |
| 27 | Pawn Stars | HIST | 10:33 PM | 1,280 | 0.3 |
| 57 | The Real Story | ID | 8:00 PM | 783 | 0.2 |
| 35 | Bill Cosby: American Scandal | ID | 9:00 PM | 1,106 | 0.3 |
| 43 | The Real Story | ID | 10:00 PM | 961 | 0.3 |
| 13 | All In w/ C. Hayes | MSNBC | 8:00 PM | 1,887 | 0.2 |
| 9 | Rachel Maddow Show | MSNBC | 9:00 PM | 2,372 | 0.3 |
| 10 | Last Word w/ L.O'Donnell | MSNBC | 10:00 PM | 2,204 | 0.3 |
| 34 | Teen Mom | MTV | 9:00 PM | 1,149 | 0.7 |
| 56 | Teen Mom AFTER | MTV | 10:01 PM | 809 | 0.5 |
| 38 | Full House | NAN | 9:00 PM | 1,081 | 0.2 |
| 39 | Full House | NAN | 9:30 PM | 1,056 | 0.2 |
| 40 | Full House | NAN | 10:00 PM | 1,054 | 0.3 |
| 41 | Full House | NAN | 10:30 PM | 1,040 | 0.3 |
| 19 | The Thundermans | NICK | 8:00 PM | 1,626 | 0.3 |
| 22 | Nicky, Ricky, Dicky & Dawn | NICK | 8:30 PM | 1,434 | 0.3 |
| 52 | Family Guy | TBS | 8:00 PM | 884 | 0.5 |
| 47 | Family Guy | TBS | 8:30 PM | 919 | 0.5 |
| 50 | Family Guy | TBS | 9:00 PM | 903 | 0.5 |
| 42 | Family Guy | TBS | 9:30 PM | 976 | 0.5 |
| 51 | American Dad TBS | TBS | 10:00 PM | 889 | 0.5 |
| 32 | American Sniper | TNT | 8:00 PM | 1,208 | 0.4 |
| 46 | Everybody Loves Raymond | TVL | 10:00 PM | 925 | 0.2 |
| 54 | Everybody Loves Raymond | TVL | 10:30 PM | 849 | 0.2 |
| 1 | WWE Raw | USA | 8:00 PM | 3,113 | 1.1 |
| 2 | WWE Raw | USA | 9:00 PM | 3,110 | 1.1 |
| 4 | WWE Raw | USA | 10:00 PM | 2,758 | 1.0 |
| 5 | Love & Hip Hop: ATL | VH1 | 8:00 PM | 2,673 | 1.3 |
| 11 | Basketball Wives | VH1 | 9:00 PM | 2,092 | 1.0 |
| 28 | Daytime Divas | VH1 | 10:00 PM | 1,277 | 0.5 |
* Viewership (,000)