Top 15 Cable Sports Events: February 17 - 19, 2017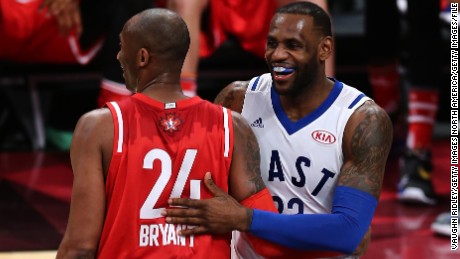 It was NBA All-Star Weekend and the events in New Orleans dominate this weekend's sports chart. The game, simulcasted on both TNT and TBS, drew a grand total of 7.7 million viewers, with TNT (#1) grabbing 6.5 million of them. That is up slightly from last year, With TNT up and TBS down.
NASCAR was gearing up for the big race next weekend with multiple racing events this weekend. FS1 drew 1.8 million viewers for The Clash at Daytona, late Sunday morning, and 1.6 million for the M.E. Cup race on Saturday Night.
College Basketball was on the back-burner, with just two games making the chart, but they made up a third of the top six entries.
| | | | | | | |
| --- | --- | --- | --- | --- | --- | --- |
| Rank | Day | Show | Net | Time | P2* | A18-49 |
| 1 | Sun | NBA All-Star Game | TNT | 8:32 PM | 6,513 | 2.6 |
| 2 | Sat | NBA All-Star Saturday Night | TNT | 8:00 PM | 5,627 | 2.4 |
| 3 | Sun | NASCAR: Clash at Daytona | FS1 | 11:00 AM | 1,849 | 0.4 |
| 4 | Sat | College BB: KY v GA | ESPN | 6:04 PM | 1,730 | 0.5 |
| 5 | Fri | NBA All-Star: Celebrity Game | ESPN | 6:59 PM | 1,707 | 0.7 |
| 6 | Sat | College B'Ball | ESPN | 8:26 PM | 1,630 | 0.4 |
| 7 | Sat | NASCAR ME Cup Rain | FS1 | 8:00 PM | 1,603 | 0.3 |
| 8 | Sun | NBA All-Star Game | TBS | 8:32 PM | 1,238 | 0.5 |
| 9 | Fri | NBA All-Star: Rising Stars | TNT | 9:00 PM | 1,156 | 0.5 |
| 10 | Sat | NASCAR Raceday | FS1 | 6:33 PM | 1,093 | 0.2 |
| 11 | Sun | PGA TOUR | GOLF | 1:00 PM | 1,027 | 0.1 |
| 12 | Sat | ARCA Racing: Daytona | FS1 | 4:00 PM | 957 | 0.1 |
| 13 | Sat | NBA All-Star Challenge | TNT | 5:00 PM | 923 | 0.4 |
| 14 | Sun | UFC Fight Night | FS1 | 9:00 PM | 907 | 0.3 |
| 15 | Sat | LIGA MX: AMER v GUAD | UND | 9:59 PM | 876 | 0.4 |
* viewership (,000)