Top 15 Cable Sports Events: June 30 - July 1, 2018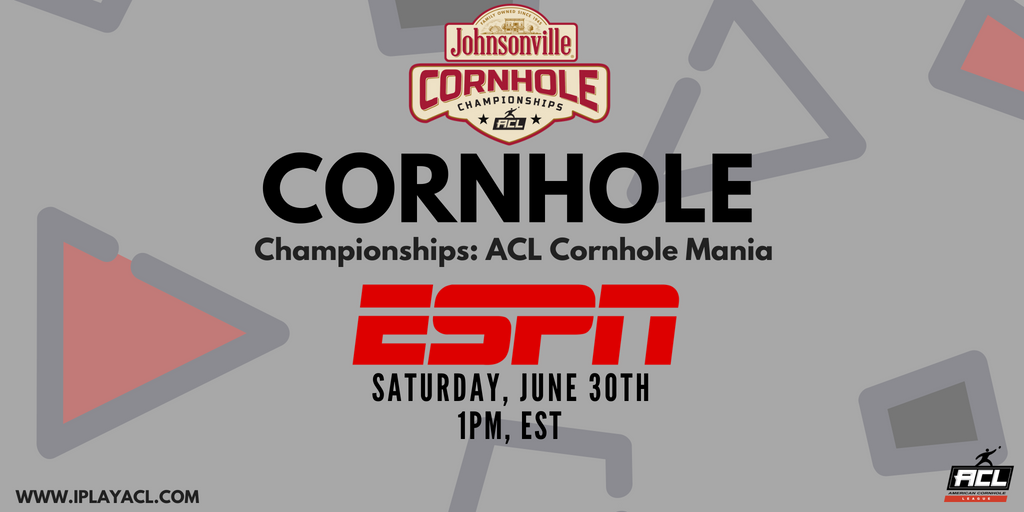 You know there was a lack of good sporting events on cable TV, when two CORNHOLE matches make the top 15 of the weekend. The matched, payed on Saturday afternoon, averaged 230,000 viewers and less than a 0.1 rating in Adults 18-49.
The Chicago NASCAR RACE was thew #1 event, collecting 2.5 million viewers and a 0.34 rating in the A18-49 demographic, for NBC Sports Network.
| | | | | | | |
| --- | --- | --- | --- | --- | --- | --- |
| Rank | Day | Show | Net | Time | P2* | A18-49 |
| 1 | Sun | NASCAR Cup Series Race | NBCSN | 2:41 PM | 2,548 | 0.34 |
| 2 | Sun | MLB: BOS v NYY | ESPN | 8:00 PM | 2,441 | 0.56 |
| 3 | Sun | PGA Tour | GOLF | 12:58 PM | 1,250 | 0.17 |
| 4 | Sat | NASCAR Xfinity Race | NBCSN | 3:53 PM | 1,068 | 0.16 |
| 5 | Sat | PGA Tour | GOLF | 12:58 PM | 1,020 | 0.14 |
| 6 | Sat | Top Rank Boxing | ESPN | 9:02 PM | 632 | 0.15 |
| 7 | Sun | Formula 1 Grand Prix | ESPN2 | 9:05 AM | 424 | 0.09 |
| 8 | Sat | Afternoon Baseball Game | MLB | 2:21 PM | 386 | 0.07 |
| 9 | Sat | MLS: ATL v ORL | ESPN | 7:00 PM | 285 | 0.11 |
| 10 | Sat | Afternoon Baseball (JIP) | MLB | 6:06 PM | 268 | 0.06 |
| 11 | Sat | Formula 1 Qualifying | ESPN2 | 8:54 AM | 253 | 0.05 |
| 12 | Sat | Cornhole: ACL Final Chase | ESPN | 1:00 PM | 241 | 0.07 |
| 13 | Sat | Cornhole: ACL Championship | ESPN | 3:00 PM | 228 | 0.07 |
| 14 | Sun | College Home Run Derby | ESPN2 | 8:00 PM | 228 | 0.10 |
| 15 | Sun | Afternoon Baseball Game | MLB | 2:16 PM | 227 | 0.05 |
* viewership (,000)