Top 100 Primetime Cable: April 2 - 8, 2018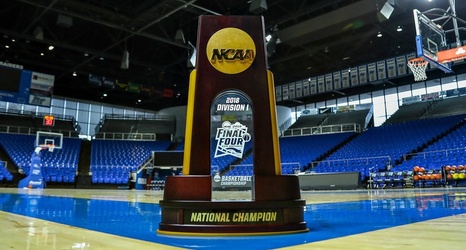 The Men's Basketball Championship game, on the Turner Networks of TBS, TNT and TruTV, dominated the weekly cable chart. TBS, alone, drew 13.3 million viewers and a 4.1 rating in Adults 18-49, and the combined numbers for the three nets were over 16 million viewers close to a 5 demo rating.
The series finale of FIXER UPPER was the top reality program, ranking 7th and collecting 3.3 million viewers. In the #19 spot was JERSEY SHORE: FAMILY VACATION, second in the genre, with 2.6 million viewers.
THE WALKING DEAD continues to be the high standard for any entertainment series, ranking second overall for the week. HAllmark's original movie of the week, was second in scripted originals, with a third of the audience that TWD generates.
Top 100 Cable Programs:

| | | | | | | |
| --- | --- | --- | --- | --- | --- | --- |
| Rank | Day | Show | Net | Time | P2* | A18-49 |
| 1 | Mon | NCAA Mens Championship Game | TBS | 9:18 PM | 13,283 | 4.1 |
| 2 | Sun | The Walking Dead | AMC | 9:00 PM | 6,665 | 2.8 |
| 3 | Mon | NCAA Pre-Game | TBS | 8:08 PM | 3,509 | 1.1 |
| 4 | Mon | WWE Raw | USA | 8:00 PM | 3,430 | 1.2 |
| 5 | Mon | WWE Raw | USA | 9:00 PM | 3,329 | 1.2 |
| 6 | Mon | WWE Raw | USA | 10:00 PM | 3,314 | 1.2 |
| 7 | Tue | Fixer Upper | HGTV | 9:00 PM | 3,268 | 0.7 |
| 8 | Wed | Hannity | FOXN | 9:00 PM | 2,938 | 0.2 |
| 9 | Tue | Hannity | FOXN | 9:00 PM | 2,931 | 0.3 |
| 10 | Thu | Rachel Maddow Show | MSNBC | 9:00 PM | 2,904 | 0.3 |
| 11 | Wed | Rachel Maddow Show | MSNBC | 9:00 PM | 2,779 | 0.3 |
| 12 | Tue | Rachel Maddow Show | MSNBC | 9:00 PM | 2,747 | 0.3 |
| 13 | Thu | Hannity | FOXN | 9:00 PM | 2,704 | 0.2 |
| 14 | Sat | Hallmark Movie | HALL | 9:00 PM | 2,633 | 0.4 |
| 15 | Mon | Tucker Carlson Tonight | FOXN | 8:00 PM | 2,601 | 0.3 |
| 16 | Fri | Hannity Special | FOXN | 9:00 PM | 2,590 | 0.3 |
| 17 | Wed | Tucker Carlson Tonight | FOXN | 8:00 PM | 2,581 | 0.2 |
| 18 | Thu | Last Word W/ L.O'Donnell | MSNBC | 10:00 PM | 2,565 | 0.3 |
| 19 | Thu | Jersey Shore:Fam Vacation | MTV | 9:00 PM | 2,555 | 1.5 |
| 20 | Sun | Talking Dead | AMC | 10:15 PM | 2,529 | 1.0 |
| 21 | Fri | Rachel Maddow Show | MSNBC | 9:00 PM | 2,526 | 0.2 |
| 22 | Thu | Tucker Carlson Tonight | FOXN | 8:00 PM | 2,496 | 0.3 |
| 23 | Tue | WWE Smackdown | USA | 8:00 PM | 2,467 | 0.8 |
| 24 | Sun | Real Housewives Atlanta | BRVO | 8:00 PM | 2,444 | 0.9 |
| 25 | Thu | Jersey Shore:Fam Vacation | MTV | 8:00 PM | 2,418 | 1.4 |
| 26 | Tue | Tucker Carlson Tonight | FOXN | 8:00 PM | 2,416 | 0.3 |
| 27 | Fri | Tucker Carlson Tonight | FOXN | 8:00 PM | 2,267 | 0.2 |
| 28 | Sat | Trading Spaces | TLC | 9:01 PM | 2,199 | 0.6 |
| 29 | Mon | Hannity | FOXN | 9:00 PM | 2,189 | 0.2 |
| 30 | Sat | Live PD | A&E | 9:00 PM | 2,150 | 0.7 |
| 31 | Wed | Last Word W/ L.O'Donnell | MSNBC | 10:00 PM | 2,139 | 0.2 |
| 32 | Mon | Rachel Maddow Show | MSNBC | 9:00 PM | 2,122 | 0.3 |
| 33 | Sun | When Calls The Heart | HALL | 9:00 PM | 2,121 | 0.2 |
| 34 | Tue | The Ingram Angle | FOXN | 10:00 PM | 2,111 | 0.2 |
| 35 | Wed | The Ingram Angle | FOXN | 10:00 PM | 2,103 | 0.2 |
| 36 | Fri | Gold Rush:Parkers Trail | DISC | 9:00 PM | 2,086 | 0.4 |
| 37 | Mon | NCAA Mens Champ Game | TNT | 9:12 PM | 2,071 | 0.6 |
| 38 | Tue | NBA:Gs V Okc | TNT | 8:14 PM | 2,055 | 0.7 |
| 39 | Tue | Last Word W/ L.O'Donnell | MSNBC | 10:00 PM | 1,992 | 0.2 |
| 40 | Thu | The Ingram Angle | FOXN | 10:00 PM | 1,974 | 0.2 |
| 41 | Sat | Trading Spaces: Reunion | TLC | 8:00 PM | 1,956 | 0.5 |
| 42 | Mon | Love & Hip Hop Atl | VH1 | 8:00 PM | 1,901 | 0.9 |
| 43 | Fri | Live Pd | A&E | 9:00 PM | 1,900 | 0.6 |
| 44 | Tue | Little People, Big World | TLC | 9:00 PM | 1,880 | 0.4 |
| 45 | Thu | Swamp People | HIST | 9:00 PM | 1,846 | 0.4 |
| 46 | Fri | Real Time W/Bill Maher | HBO | 10:00 PM | 1,840 | 0.4 |
| 47 | Mon | Last Word W/ L.O'Donnell | MSNBC | 10:00 PM | 1,838 | 0.2 |
| 48 | Tue | All In W/ C. Hayes | MSNBC | 8:00 PM | 1,820 | 0.2 |
| 49 | Sun | Caribbean Life | HGTV | 9:30 PM | 1,818 | 0.4 |
| 50 | Wed | All In W/ C. Hayes | MSNBC | 8:00 PM | 1,805 | 0.2 |
| 51 | Thu | All In W/ C. Hayes | MSNBC | 8:00 PM | 1,803 | 0.2 |
| 52 | Tue | Good Bones | HGTV | 10:00 PM | 1,784 | 0.4 |
| 53 | Fri | Last Word W/ L.O'Donnell | MSNBC | 10:00 PM | 1,769 | 0.2 |
| 54 | Tue | The Real Housewives: Bh | BRVO | 9:00 PM | 1,761 | 0.6 |
| 55 | Mon | All In W/ C. Hayes | MSNBC | 8:00 PM | 1,755 | 0.2 |
| 56 | Sun | Island Life | HGTV | 10:00 PM | 1,746 | 0.3 |
| 57 | Thu | NBA: Wizards/Cavaliers | TNT | 8:14 PM | 1,745 | 0.6 |
| 58 | Sun | Caribbean Life | HGTV | 9:00 PM | 1,730 | 0.3 |
| 59 | Sat | Justice W/ Judge Jeanine | FOXN | 9:00 PM | 1,716 | 0.1 |
| 60 | Mon | The Ingram Angle | FOXN | 10:00 PM | 1,688 | 0.2 |
| 61 | Sun | Long Island Medium: N/A | TLC | 8:00 PM | 1,673 | 0.3 |
| 62 | Wed | House Hunters | HGTV | 10:00 PM | 1,621 | 0.3 |
| 63 | Wed | House Hunters Intl | HGTV | 10:30 PM | 1,615 | 0.3 |
| 64 | Sat | Watters World | FOXN | 8:00 PM | 1,613 | 0.1 |
| 65 | Sun | How Close Can I Beach | HGTV | 8:30 PM | 1,594 | 0.3 |
| 66 | Sun | MLB: Was V Nym | ESPN | 8:00 PM | 1,576 | 0.5 |
| 67 | Fri | Ingraham Angle, The | FOXN | 10:00 PM | 1,562 | 0.2 |
| 68 | Sun | Island Life | HGTV | 10:30 PM | 1,558 | 0.3 |
| 69 | Sat | House Hunters Renovation | HGTV | 10:00 PM | 1,553 | 0.3 |
| 70 | Sun | American Dynast: Kennedys | CNN | 9:00 PM | 1,532 | 0.2 |
| 71 | Sun | How Close Can I Beach | HGTV | 8:00 PM | 1,518 | 0.3 |
| 72 | Fri | Bering Sea Gold | DISC | 10:00 PM | 1,507 | 0.3 |
| 73 | Wed | American Pickers: Best Of | HIST | 9:00 PM | 1,491 | 0.3 |
| 74 | Fri | My Lottery Dream Home | HGTV | 9:00 PM | 1,485 | 0.3 |
| 75 | Mon | Vanderpump Rules | BRVO | 9:00 PM | 1,481 | 0.6 |
| 76 | Sat | Greg Gutfeld Show, The | FOXN | 10:00 PM | 1,446 | 0.1 |
| 77 | Wed | My 600 Lb Life | TLC | 8:00 PM | 1,423 | 0.4 |
| 78 | Thu | House Hunters Intl | HGTV | 10:30 PM | 1,419 | 0.3 |
| 79 | Sun | Long Lost Family | TLC | 10:05 PM | 1,417 | 0.2 |
| 80 | Fri | House Hunters | HGTV | 10:00 PM | 1,416 | 0.3 |
| 81 | Sun | Naked And Afraid | DISC | 10:00 PM | 1,407 | 0.4 |
| 82 | Thu | House Hunters | HGTV | 10:00 PM | 1,397 | 0.3 |
| 83 | Wed | Real Housewives:NYC | BRVO | 9:00 PM | 1,393 | 0.5 |
| 84 | Mon | Teyana & Iman | VH1 | 9:00 PM | 1,389 | 0.7 |
| 85 | Mon | House Hunters | HGTV | 10:00 PM | 1,354 | 0.3 |
| 86 | Fri | House Hunters Intl | HGTV | 10:30 PM | 1,317 | 0.3 |
| 87 | Sat | Paterno | HBO | 8:00 PM | 1,304 | 0.3 |
| 88 | Tue | Foreged In Fire | HIST | 9:00 PM | 1,303 | 0.4 |
| 89 | Wed | NBA: Bos V Tor | ESPN | 8:01 PM | 1,294 | 0.5 |
| 90 | Mon | House Hunters Intl | HGTV | 10:30 PM | 1,293 | 0.3 |
| 91 | Wed | NBA: Sa V Lal | ESPN | 10:35 PM | 1,287 | 0.5 |
| 92 | Tue | Curse Of Civil War Gold | HIST | 10:03 PM | 1,278 | 0.3 |
| 93 | Wed | Street Outlaws: No Prep | DISC | 9:00 PM | 1,271 | 0.5 |
| 94 | Sun | Staircase: An American Murder | ID | 10:00 PM | 1,266 | 0.4 |
| 95 | Thu | Project Runway All Stars | LIFE | 9:00 PM | 1,258 | 0.3 |
| 96 | Fri | Revolution | MSNBC | 8:00 PM | 1,251 | 0.1 |
| 97 | Mon | NCAA Pre-Game | TNT | 9:00 PM | 1,250 | 0.4 |
| 98 | Sat | Henry Danger | NICK | 8:00 PM | 1,250 | 0.2 |
| 99 | Sat | 20/20 | ID | 8:00 PM | 1,249 | 0.3 |
| 100 | Sun | Homeland | SHO | 9:07 PM | 1,242 | 0.3 |
* - Viewership (,000)



Primetime Cable Network Averages:
| | |
| --- | --- |
| Net | P2* |
| FOXN | 2,064 |
| MSNBC | 1,715 |
| CNN | 897 |

| | |
| --- | --- |
| Net | P2* |
| ESPN | 940 |
| ESPN2 | 189 |
| FS1 | 291 |
| FS2 | 30 |
| NBCSN | 167 |
| MLB | 224 |

| | |
| --- | --- |
| Net | P2* |
| AMC | 1,042 |
| A&E | 974 |
| DISC | 9.27 |
| FX | 842 |
| HGTV | 1,500 |
| HIST | 1,014 |
| ID | 1,044 |
| TBS | 2,349 |
| TNT | 1,231 |
| USA | 1,236 |
* - Viewership (,000)