Top 100 Primetime Cable: February 19 - 25, 2018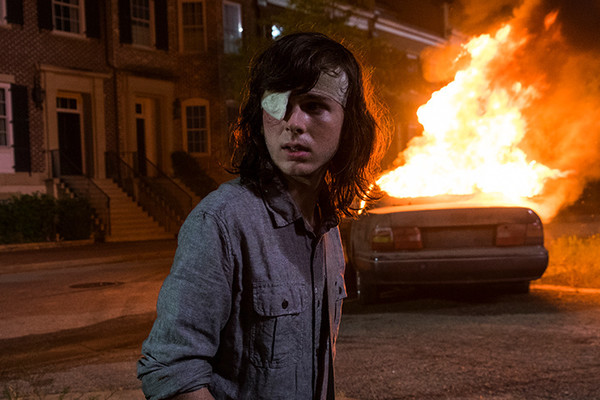 THE WALKING DEAD tops this week's cable ratings, collecting 8.3 million viewers and a 3.6 rating in Adults 18-49. Despite being down neatly 33% from last February's premiere, the drama more than doubles any other cable program.
TALKING DEAD was #2 overall and leads the non-scripted offerings, with 3.6 million viewers and a 1.5 demo rating. GOLD RUSH, second in the genre and #12 overall, attracted 2.8 million viewers.
WWE RAW (#4) tops the cable sports offerings, with 3.3 million viewers. The closest Winter Olympics program ranked 26th and grabbed 2.6 million viewers on a Tuesday night.
Primetime Cable Network Averages:
| | | |
| --- | --- | --- |
| Net | P2* | A25-54 |
| FOXN | 2,280 | 0.37 |
| MSNBC | 1,786 | 0.32 |
| CNN | 1,063 | 0.33 |

| | | |
| --- | --- | --- |
| Net | P2* | A25-54 |
| ESPN | 1,103 | 0..39 |
| ESPN2 | 263 | 0.07 |
| FS1 | 263 | 0.08 |
| FS2 | 33 | 0.01 |
| NBCSN | 1,736 | 0.56 |

| | | |
| --- | --- | --- |
| Net | P2* | A25-54 |
| AMC | 1,275 | 0.59 |
| A&E | 874 | 0.33 |
| DISC | 1,488 | 0.38 |
| FX | 838 | 0.34 |
| HGTV | 1,362 | 0.38 |
| HIST | 1,195 | 0.34 |
| ID | 1,075 | 0.34 |
| TBS | 1,206 | 0.53 |
| TNT | 1,122 | 0.40 |
| USA | 1,374 | 0.51 |
Primetime Cable Rankings:
| | | | | | | |
| --- | --- | --- | --- | --- | --- | --- |
| Rank | Day | Show | Net | Time | P2* | A18-49 |
| 1 | Sun | The Walking Dead (SP) | AMC | 9:00 PM | 8,282 | 3.6 |
| 2 | Sun | Talking Dead (SP) | AMC | 10:23 PM | 3,593 | 1.5 |
| 3 | Sun | The Walking Dead Bonus | AMC | 7:30 PM | 3,578 | 1.3 |
| 4 | Mon | WWE Raw | USA | 8:00 PM | 3,518 | 1.2 |
| 5 | Mon | WWE Raw | USA | 9:00 PM | 3,509 | 1.2 |
| 6 | Thu | Rachel Maddow Show | MSNBC | 9:00 PM | 2,999 | 0.3 |
| 7 | Tue | Curse of Oak Island | HIST | 9:00 PM | 2,993 | 0.7 |
| 8 | Mon | Rachel Maddow Show | MSNBC | 9:00 PM | 2,976 | 0.4 |
| 9 | Wed | CNN Town Hall | CNN | 9:00 PM | 2,909 | 0.7 |
| 10 | Thu | HANNITY | FOXN | 9:00 PM | 2,880 | 0.2 |
| 11 | Mon | HANNITY | FOXN | 9:00 PM | 2,853 | 0.3 |
| 12 | Fri | Gold Rush | DISC | 9:00 PM | 2,848 | 0.7 |
| 13 | Fri | Rachel Maddow Show | MSNBC | 9:00 PM | 2,829 | 0.3 |
| 14 | Mon | WWE Raw | USA | 10:00 PM | 2,821 | 1.0 |
| 15 | Wed | Tucker Carlson Tonight | FOXN | 8:00 PM | 2,741 | 0.3 |
| 16 | Wed | Rachel Maddow Show | MSNBC | 9:00 PM | 2,740 | 0.4 |
| 17 | Tue | Tucker Carlson Tonight | FOXN | 8:00 PM | 2,734 | 0.3 |
| 18 | Wed | HANNITY | FOXN | 9:00 PM | 2,730 | 0.3 |
| 19 | Tue | Rachel Maddow Show | MSNBC | 9:00 PM | 2,685 | 0.3 |
| 20 | Mon | Tucker Carlson Tonight | FOXN | 8:00 PM | 2,679 | 0.3 |
| 21 | Sat | Hallmark Original Movie | HALL | 9:00 PM | 2,637 | 0.3 |
| 22 | Thu | Tucker Carlson Tonight | FOXN | 8:00 PM | 2,616 | 0.3 |
| 23 | Tue | WWE Smackdown | USA | 8:00 PM | 2,613 | 0.8 |
| 24 | Tue | HANNITY | FOXN | 9:00 PM | 2,611 | 0.2 |
| 25 | Thu | The Ingram Angle | FOXN | 10:00 PM | 2,583 | 0.3 |
| 26 | Tue | Winter Olympics | NBCSN | 8:00 PM | 2,555 | 0.6 |
| 27 | Tue | Fixer Upper | HGTV | 9:00 PM | 2,514 | 0.5 |
| 28 | Fri | Tucker Carlson Tonight | FOXN | 8:00 PM | 2,489 | 0.2 |
| 29 | Sat | Justice w/Judge Jeannie | FOXN | 9:00 PM | 2,392 | 0.2 |
| 30 | Fri | HANNITY | FOXN | 9:00 PM | 2,315 | 0.2 |
| 31 | Sun | The Real Housewives: ATL | BRVO | 8:00 PM | 2,291 | 0.9 |
| 32 | Tue | The Haves and The Have Nots | OWN | 9:00 PM | 2,244 | 0.6 |
| 33 | Sun | When Calls the Heart | HALL | 9:00 PM | 2,233 | 0.2 |
| 34 | Tue | The Ingram Angle | FOXN | 10:00 PM | 2,221 | 0.2 |
| 35 | Thu | Winter Olympics | NBCSN | 8:00 PM | 2,204 | 0.5 |
| 36 | Wed | The Ingram Angle | FOXN | 10:00 PM | 2,161 | 0.2 |
| 37 | Tue | Last Word w/ L.O'Donnell | MSNBC | 10:00 PM | 2,156 | 0.3 |
| 38 | Fri | Last Word w/ L.O'Donnell | MSNBC | 10:00 PM | 2,146 | 0.3 |
| 39 | Wed | Winter Olympics | NBCSN | 8:00 PM | 2,139 | 0.6 |
| 40 | Thu | Last Word w/ L.O'Donnell | MSNBC | 10:00 PM | 2,132 | 0.2 |
| 41 | Mon | Winter Olympics | NBCSN | 8:00 PM | 2,110 | 0.6 |
| 42 | Mon | Last Word w/ L.O'Donnell | MSNBC | 10:00 PM | 2,098 | 0.2 |
| 43 | Fri | The Ingram Angle | FOXN | 10:00 PM | 2,079 | 0.2 |
| 44 | Thu | NBA: WAS v CLE | TNT | 8:14 PM | 2,073 | 0.8 |
| 45 | Wed | All In w/ C. Hayes | MSNBC | 8:00 PM | 2,061 | 0.3 |
| 46 | Mon | Love & Hip Hop 8 | VH1 | 8:00 PM | 1,955 | 1.0 |
| 47 | Mon | Street Outlaws | DISC | 9:00 PM | 1,927 | 0.7 |
| 48 | Thu | All In w/ C. Hayes | MSNBC | 8:00 PM | 1,912 | 0.2 |
| 49 | Sat | Watters World | FOXN | 8:00 PM | 1,904 | 0.2 |
| 50 | Fri | All In w/ C. Hayes | MSNBC | 8:00 PM | 1,900 | 0.2 |
| 51 | Mon | All In w/ C. Hayes | MSNBC | 8:00 PM | 1,890 | 0.2 |
| 52 | Wed | Last Word w/ L.O'Donnell | MSNBC | 10:00 PM | 1,870 | 0.2 |
| 53 | Mon | The Ingram Angle | FOXN | 10:00 PM | 1,841 | 0.2 |
| 54 | Sat | The Greg Gutfeld Show | FOXN | 10:00 PM | 1,833 | 0.2 |
| 55 | Sat | Live PD | A&E | 9:00 PM | 1,831 | 0.6 |
| 56 | Tue | All In w/ C. Hayes | MSNBC | 8:00 PM | 1,785 | 0.2 |
| 57 | Mon | Love & Hip Hop MIAMI | VH1 | 9:00 PM | 1,781 | 0.9 |
| 58 | Fri | Gold Rush | DISC | 10:03 PM | 1,766 | 0.4 |
| 59 | Sat | NCAA BKBL | ESPN | 6:27 PM | 1,738 | 0.5 |
| 60 | Mon | American Pickers | HIST | 9:00 PM | 1,730 | 0.3 |
| 61 | Fri | Live PD | A&E | 9:00 PM | 1,697 | 0.5 |
| 62 | Tue | Hunting Hitler | HIST | 10:03 PM | 1,684 | 0.4 |
| 63 | Sun | Island Life | HGTV | 10:00 PM | 1,684 | 0.4 |
| 64 | Sat | Winter Olympics | NBCSN | 8:00 PM | 1,670 | 0.4 |
| 65 | Sun | Island Life | HGTV | 10:30 PM | 1,637 | 0.3 |
| 66 | Sun | American Pickers: BEST OF | HIST | 8:00 PM | 1,614 | 0.3 |
| 67 | Wed | Property Bros. | HGTV | 9:00 PM | 1,602 | 0.3 |
| 68 | Thu | NBA: LAC v GS | TNT | 10:35 PM | 1,602 | 0.7 |
| 69 | Sun | Caribbean Life | HGTV | 9:30 PM | 1,602 | 0.3 |
| 70 | Mon | The Alienist | TNT | 9:00 PM | 1,592 | 0.4 |
| 71 | Sun | Caribbean Life | HGTV | 9:00 PM | 1,563 | 0.3 |
| 72 | Sun | SCANDALOUS | FOXN | 8:00 PM | 1,561 | 0.1 |
| 73 | Tue | The Real Housewives: BH | BRVO | 9:00 PM | 1,553 | 0.5 |
| 74 | Sun | Beachfront Bargain Hunt | HGTV | 8:00 PM | 1,538 | 0.3 |
| 75 | Tue | Restored by the Fords | HGTV | 10:00 PM | 1,534 | 0.3 |
| 76 | Thu | Swamp People | HIST | 9:00 PM | 1,523 | 0.3 |
| 77 | Mon | Home Town | HGTV | 9:00 PM | 1,505 | 0.3 |
| 78 | Wed | If Loving You Is Wrong | OWN | 10:00 PM | 1,492 | 0.3 |
| 79 | Mon | Street Outlaws: MEMPHIS | DISC | 10:01 PM | 1,485 | 0.6 |
| 80 | Sun | Beachfront Bargain Hunt | HGTV | 8:30 PM | 1,463 | 0.3 |
| 81 | Sun | Worst Cooks | FOOD | 9:00 PM | 1,463 | 0.4 |
| 82 | Tue | House Hunters | HGTV | 10:30 PM | 1,427 | 0.3 |
| 83 | Sun | Life, Liberty & Levin | FOXN | 10:00 PM | 1,413 | 0.1 |
| 84 | Wed | House Hunters | HGTV | 10:00 PM | 1,409 | 0.3 |
| 85 | Mon | Pawn Stars | HIST | 10:03 PM | 1,395 | 0.2 |
| 86 | Mon | House Hunters | HGTV | 10:00 PM | 1,390 | 0.3 |
| 87 | Fri | Andi Mack | DSNY | 8:00 PM | 1,386 | 0.3 |
| 88 | Mon | Kids Baking Champ | FOOD | 9:00 PM | 1,385 | 0.4 |
| 89 | Sun | On the Case w/PZ | ID | 10:00 PM | 1,382 | 0.4 |
| 90 | Sun | NBA: PHI v WAS | ESPN | 8:01 PM | 1,376 | 0.5 |
| 91 | Fri | NBA: DAL v LAL | ESPN | 10:35 PM | 1,374 | 0.6 |
| 92 | Wed | See No Evil | ID | 9:00 PM | 1,373 | 0.3 |
| 93 | Sun | Evil Lives Here | ID | 9:00 PM | 1,370 | 0.4 |
| 94 | Wed | AC 360 | CNN | 8:00 PM | 1,369 | 0.3 |
| 95 | Wed | My 600-LB Life | TLC | 8:00 PM | 1,366 | 0.4 |
| 96 | Mon | Vanderpump Rules | BRVO | 9:00 PM | 1,363 | 0.5 |
| 97 | Mon | NCAA BKBL | ESPN | 9:05 PM | 1,354 | 0.4 |
| 98 | Wed | Homicide City | ID | 10:00 PM | 1,348 | 0.3 |
| 99 | Wed | House Hunters INTL | HGTV | 10:30 PM | 1,338 | 0.3 |
| 100 | Fri | NBA: MIN v HOU | ESPN | 8:01 PM | 1,333 | 0.6 |
* - Viewership (,000)