Primetime Cable Ratings: December 10, 2017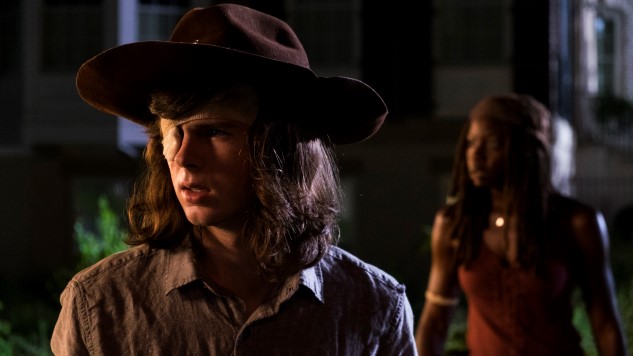 THE WALKING DEAD fall finale toped the Sunday cable ratings, but it was not a good number for the once dominating horror drama. Just 7.9 million viewers tuned into the last episode of 2017, ranking it as the second lowest rated episode of the season, ahead of the previous week's episode.
The Hallmark Christmas movie, SHARING CHRISTMAS, was the #2 program of the night, attracting 3.7 million viewers, while the HMM Christmas movie, K.K.-MAGGIES XMAS MIRACLE, collected 1.7 million viewers.
The season finale of OUTLANDER ranked 9th on the night, with 1.4 million viewers.
Top Primetime Cable Programs:
| | | | | | |
| --- | --- | --- | --- | --- | --- |
| Rank | Show | Net | Time | P2* | A18-49 |
| 1 | The Walking Dead | AMC | 9:00 PM | 7,885 | 3.4 |
| 2 | Hallmark Original Movie | HALL | 8:00 PM | 3,686 | 0.6 |
| 3 | Talking Dead | AMC | 10:28 PM | 3,359 | 1.4 |
| 4 | The Real Housewives: ATL | BRVO | 8:00 PM | 2,640 | 1.0 |
| 5 | Alaska: The Last Frontier | DISC | 9:00 PM | 2,032 | 0.3 |
| 6 | 90 Day Fiance | TLC | 8:00 PM | 1,898 | 0.6 |
| 7 | HMM Original Movie | HMM | 9:00 PM | 1,664 | 0.2 |
| 8 | SHAMELESS | SHO | 9:06 PM | 1,517 | 0.5 |
| 9 | OUTLANDER | STARZ | 8:02 PM | 1,427 | 0.3 |
| 10 | Andrew Jackson Special | FOXN | 8:00 PM | 1,354 | 0.1 |
| 11 | Hawaii Life | HGTV | 8:30 PM | 1,247 | 0.2 |
| 12 | Hawaii Life | HGTV | 8:00 PM | 1,200 | 0.2 |
| 13 | Beach hunters | HGTV | 9:00 PM | 1,178 | 0.2 |
| 14 | Beach hunters | HGTV | 9:30 PM | 1,162 | 0.2 |
| 15 | Island Life | HGTV | 10:00 PM | 1,156 | 0.2 |
| 16 | Guy's Grocery Games | FOOD | 8:00 PM | 1,120 | 0.3 |
| 17 | The Next Revolution | FOXN | 9:00 PM | 1,119 | 0.1 |
| 18 | Island Life | HGTV | 10:30 PM | 1,091 | 0.2 |
| 19 | Kardashians | E! | 9:00 PM | 1,063 | 0.5 |
| 20 | Jeffrey McDonald | ID | 10:00 PM | 953 | 0.2 |
| 21 | UNEXPECTED | TLC | 10:05 PM | 932 | 0.3 |
| 22 | FOX Report Sunday | FOXN | 7:00 PM | 915 | 0.1 |
| 23 | Cash Cab | DISC | 10:02 PM | 885 | 0.2 |
| 24 | Final Vision | ID | 8:00 PM | 877 | 0.2 |
| 25 | LIGA MX | UND | 6:30 PM | 853 | 0.4 |
| 26 | Movie: Logan | HBO | 10:00 PM | 758 | 0.3 |
| 27 | Inside the SS | NGC | 10:00 PM | 710 | 0.1 |
| 28 | Good Behavior | TNT | 10:00 PM | 678 | 0.2 |
| 29 | Inside the SS | NGC | 9:00 PM | 676 | 0.1 |
* Viewership (,000)