Primetime Cable Ratings: March 29, 2017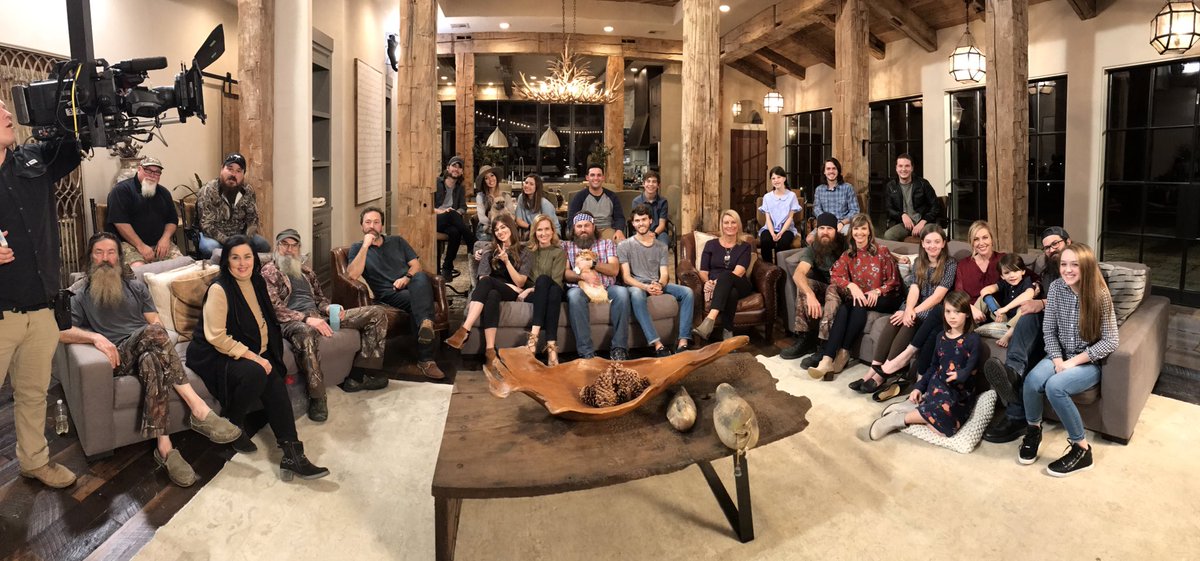 The series finale of DUCK DYNASTY did make the top 20 on Wednesday night, drawing 1.5 million viewers and a 0.5 rating in Adults 18-40. The series ends after 11 seasons, creating 130 episodes.
TV Land had two premieres on the night, but neither comedy made the the chart. New sitcom, NOBODIES, collected 430,000 viewers and a0.1 rating in Adults 18-49. The season two premiere of LOPEZ did a little worse, holding onto 370,000 viewers.
FOX News continues to be the network with the most viewers, grabbing three of the top four spots, including the #1 ranking by THE O'REILLY FACTOR, with 3.5 million viewers.
Final L+SD Cable Ratings:
| | | | | | |
| --- | --- | --- | --- | --- | --- |
| Rank | Show | Net | Time | P2* | A18-49 |
| 16 | Duck Dynasty | A&E | 9:00 PM | 1,507 | 0.5 |
| 39 | American Dad | ADSM | 9:00 PM | 1,026 | 0.5 |
| 27 | American Dad | ADSM | 9:30 PM | 1,263 | 0.6 |
| 34 | Samurai Jack | ADSM | 10:00 PM | 1,112 | 0.5 |
| 31 | Bob's Burgers | ADSM | 10:30 PM | 1,159 | 0.6 |
| 30 | AC 360 | CNN | 8:00 PM | 1,177 | 0.3 |
| 32 | AC 360 | CNN | 9:00 PM | 1,137 | 0.3 |
| 43 | CNN Tonight | CNN | 10:00 PM | 1,000 | 0.2 |
| 26 | The Last Alaskans | DISC | 9:00 PM | 1,303 | 0.2 |
| 37 | Bering Sea Gold | DISC | 10:00 PM | 1,058 | 0.3 |
| 44 | Liv & Maddie | DSNY | 9:30 PM | 1,000 | 0.2 |
| 41 | BUNKD | DSNY | 10:00 PM | 1,020 | 0.2 |
| 42 | BUNKD | DSNY | 10:30 PM | 1,018 | 0.2 |
| 2 | NBA: GS v SA | ESPN | 9:31 PM | 2,911 | 1.3 |
| 36 | Chopped JR. | FOOD | 8:00 PM | 1,077 | 0.3 |
| 1 | The O'Reilly Factor | FOXN | 8:00 PM | 3,484 | 0.3 |
| 3 | Tucker Carlson Tonight | FOXN | 9:00 PM | 2,847 | 0.3 |
| 4 | HANNITY | FOXN | 10:00 PM | 2,571 | 0.3 |
| 21 | Property Bros. | HGTV | 8:00 PM | 1,378 | 0.3 |
| 23 | Property Bros. | HGTV | 9:00 PM | 1,341 | 0.3 |
| 15 | House Hunters | HGTV | 10:00 PM | 1,552 | 0.3 |
| 17 | House Hunters INTL | HGTV | 10:30 PM | 1,469 | 0.3 |
| 19 | American Pickers | HIST | 8:00 PM | 1,408 | 0.2 |
| 18 | American Pickers: Best Of | HIST | 9:00 PM | 1,423 | 0.3 |
| 29 | American Pickers | HIST | 10:03 PM | 1,193 | 0.2 |
| 35 | See No Evil | ID | 9:00 PM | 1,101 | 0.3 |
| 38 | Murder Chose me | ID | 10:00 PM | 1,051 | 0.3 |
| 12 | All In w/ C. Hayes | MSNBC | 8:00 PM | 1,745 | 0.2 |
| 5 | Rachel Maddow Show | MSNBC | 9:00 PM | 2,540 | 0.3 |
| 10 | Last Word w/ L.O'Donnell | MSNBC | 10:00 PM | 2,115 | 0.3 |
| 25 | GREENLEAF | OWN | 10:00 PM | 1,315 | 0.4 |
| 14 | The Big Bang Theory | TBS | 8:00 PM | 1,654 | 0.5 |
| 11 | The Big Bang Theory | TBS | 8:30 PM | 1,932 | 0.6 |
| 7 | The Big Bang Theory | TBS | 9:00 PM | 2,278 | 0.7 |
| 8 | The Big Bang Theory | TBS | 9:30 PM | 2,260 | 0.7 |
| 9 | The Big Bang Theory | TBS | 10:00 PM | 2,198 | 0.8 |
| 22 | Full Frontal w/Sma Bee | TBS | 10:30 PM | 1,373 | 0.5 |
| 20 | My 600-LB Life | TLC | 8:00 PM | 1,394 | 0.4 |
| 40 | Skin Tight | TLC | 10:01 PM | 1,026 | 0.3 |
| 6 | Major Crimes | TNT | 9:00 PM | 2,436 | 0.3 |
| 13 | NCIS | USA | 8:00 PM | 1,717 | 0.3 |
| 24 | NCIS | USA | 9:00 PM | 1,331 | 0.2 |
| 33 | NCIS | USA | 10:00 PM | 1,135 | 0.2 |
| 28 | Black Ink Crew | VH1 | 8:00 PM | 1,195 | 0.7 |
* Viewership (,000)