Top 100 Primetime Cable: January 23 - 29, 2017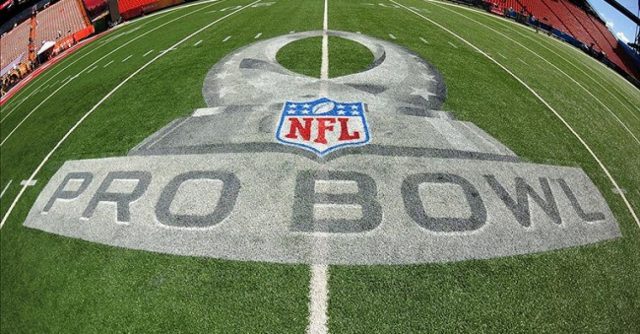 ESPN was back on top of the weekly cable chart, with the NFL Program scoring the biggest ratings of the week. The "exhibition" game drew 7.4 million viewers and a 2.6 rating in Adults 18-49. That is down from last year's game by 600k in total viewers and two-tenths of a point in the demo.
The BET miniseries, THE NEW EDITION STORY was a huge ratings grabber for the network, with all three nights making the top 15. The mini series averaged 4.0 million viewers and a 1.9 rating in the A18-49 demographic.
GOLD RUSH was this week's top reality series, ranking 12th overall, drawing 3.9 million viewers. CURSE OF OAK ISLAND was next, in 20th place, with 3.2 million viewers.
| | | | | | | |
| --- | --- | --- | --- | --- | --- | --- |
| Rank | Day | Show | Net | Time | P2* | A18-49 |
| 1 | Sun | NFL Pro Bowl | ESPN | 7:51 PM | 7,449 | 2.6 |
| 2 | Mon | The O'Reilly Factor | FOXN | 8:00 PM | 4,970 | 0.5 |
| 3 | Wed | The O'Reilly Factor | FOXN | 8:00 PM | 4,949 | 0.5 |
| 4 | Thu | The O'Reilly Factor | FOXN | 8:00 PM | 4,858 | 0.5 |
| 5 | Thu | HANNITY | FOXN | 10:00 PM | 4,756 | 0.7 |
| 6 | Tue | The O'Reilly Factor | FOXN | 8:00 PM | 4,453 | 0.4 |
| 7 | Thu | Miniseries: New Edition Story, Pt.3 | BET | 9:00 PM | 4,225 | 1.9 |
| 8 | Tue | Miniseries: New Edition Story, Pt.1 | BET | 9:00 PM | 4,212 | 1.9 |
| 9 | Thu | Tucker Carlson Tonight | FOXN | 9:00 PM | 4,056 | 0.5 |
| 10 | Mon | Tucker Carlson Tonight | FOXN | 9:00 PM | 4,056 | 0.5 |
| 11 | Wed | Miniseries: New Edition Story, Pt.2 | BET | 9:00 PM | 3,955 | 1.8 |
| 12 | Fri | Gold Rush | DISC | 9:00 PM | 3,859 | 1.1 |
| 13 | Wed | Tucker Carlson Tonight | FOXN | 9:00 PM | 3,781 | 0.4 |
| 14 | Tue | Tucker Carlson Tonight | FOXN | 9:00 PM | 3,744 | 0.4 |
| 15 | Fri | The O'Reilly Factor | FOXN | 8:00 PM | 3,729 | 0.4 |
| 16 | Mon | HANNITY | FOXN | 10:00 PM | 3,479 | 0.4 |
| 17 | Mon | WWE Raw | USA | 9:00 PM | 3,457 | 1.3 |
| 18 | Mon | WWE Raw | USA | 8:00 PM | 3,309 | 1.2 |
| 19 | Fri | Tucker Carlson Tonight | FOXN | 9:00 PM | 3,215 | 0.4 |
| 20 | Tue | Curse of Oak island | HIST | 9:00 PM | 3,197 | 1.0 |
| 21 | Tue | HANNITY | FOXN | 10:00 PM | 3,192 | 0.4 |
| 22 | Wed | HANNITY | FOXN | 10:00 PM | 3,175 | 0.4 |
| 23 | Sun | Alaska: The Last Frontier | DISC | 9:00 PM | 3,166 | 0.6 |
| 24 | Mon | WWE Raw | USA | 10:00 PM | 3,111 | 1.2 |
| 25 | Tue | Fixer Upper | HGTV | 9:00 PM | 2,897 | 0.7 |
| 26 | Sat | Justice w/Judge Jeannie | FOXN | 9:00 PM | 2,858 | 0.3 |
| 27 | Sat | Watters World | FOXN | 8:00 PM | 2,823 | 0.3 |
| 28 | Wed | Alaskan Bush People | DISC | 9:00 PM | 2,782 | 0.7 |
| 29 | Mon | Love And Hip Hop | VH1 | 8:00 PM | 2,719 | 1.4 |
| 30 | Fri | HANNITY | FOXN | 10:00 PM | 2,687 | 0.3 |
| 31 | Sat | The Big Bang Theory | TBS | 9:30 PM | 2,647 | 0.8 |
| 32 | Wed | The Big Bang Theory | TBS | 9:30 PM | 2,642 | 0.9 |
| 33 | Sun | The Real Housewives: ATL | BRVO | 8:00 PM | 2,620 | 1.1 |
| 34 | Tue | WWE Smackdown | USA | 8:00 PM | 2,556 | 0.9 |
| 35 | Sat | The Big Bang Theory | TBS | 10:30 PM | 2,532 | 0.8 |
| 36 | Sat | The Big Bang Theory | TBS | 10:00 PM | 2,530 | 0.8 |
| 37 | Sat | The Big Bang Theory | TBS | 9:00 PM | 2,492 | 0.8 |
| 38 | Sat | The Big Bang Theory | TBS | 8:30 PM | 2,492 | 0.7 |
| 39 | Mon | Fast N Loud | DISC | 9:00 PM | 2,477 | 0.9 |
| 40 | Thu | The Big Bang Theory | TBS | 10:30 PM | 2,460 | 0.9 |
| 41 | Wed | VIKINGS | HIST | 9:00 PM | 2,414 | 0.7 |
| 42 | Wed | The Big Bang Theory | TBS | 10:00 PM | 2,378 | 0.8 |
| 43 | Tue | The Haves & Have Nots | OWN | 9:00 PM | 2,359 | 0.6 |
| 44 | Thu | The Big Bang Theory | TBS | 10:00 PM | 2,351 | 0.9 |
| 45 | Sun | Fixer Upper | HGTV | 7:00 PM | 2,340 | 0.6 |
| 46 | Wed | The Big Bang Theory | TBS | 9:00 PM | 2,336 | 0.8 |
| 47 | Sun | The Big Bang Theory | TBS | 7:00 PM | 2,333 | 0.8 |
| 48 | Sun | The Big Bang Theory | TBS | 7:30 PM | 2,268 | 0.8 |
| 49 | Tue | The Big Bang Theory | TBS | 10:00 PM | 2,248 | 0.8 |
| 50 | Sat | HHOF Movie | HALL | 9:00 PM | 2,243 | 0.3 |
| 51 | Sat | The Big Bang Theory | TBS | 8:00 PM | 2,207 | 0.6 |
| 52 | Mon | Rachel Maddow Show | MSNBC | 9:00 PM | 2,201 | 0.3 |
| 53 | Sun | Beachfront Bargain Hunt | HGTV | 8:00 PM | 2,179 | 0.5 |
| 54 | Tue | The Big Bang Theory | TBS | 9:00 PM | 2,164 | 0.7 |
| 55 | Sun | Alaska: The Last Frontier | DISC | 10:00 PM | 2,161 | 0.4 |
| 56 | Tue | The Big Bang Theory | TBS | 10:30 PM | 2,147 | 0.8 |
| 57 | Fri | Rachel Maddow Show | MSNBC | 9:00 PM | 2,126 | 0.3 |
| 58 | Mon | American Pickers | HIST | 9:00 PM | 2,114 | 0.4 |
| 59 | Tue | The Big Bang Theory | TBS | 9:30 PM | 2,113 | 0.7 |
| 60 | Sun | SAG Awards | TNT | 8:00 PM | 2,109 | 0.6 |
| 61 | Wed | The Big Bang Theory | TBS | 8:30 PM | 2,105 | 0.7 |
| 62 | Wed | Rachel Maddow Show | MSNBC | 9:00 PM | 2,090 | 0.3 |
| 63 | Sun | Alaska: The Last Frontier | DISC | 8:00 PM | 2,079 | 0.4 |
| 64 | Sun | NFL Countdown | ESPN | 6:00 PM | 2,071 | 0.8 |
| 65 | Thu | Rachel Maddow Show | MSNBC | 9:00 PM | 2,069 | 0.3 |
| 66 | Tue | The Big Bang Theory | TBS | 8:30 PM | 2,054 | 0.7 |
| 67 | Tue | House Hunters | HGTV | 10:00 PM | 2,051 | 0.4 |
| 68 | Mon | Leave It to Stevie | VH1 | 9:00 PM | 2,026 | 1.0 |
| 69 | Sat | The Greg Gutfeld Show | FOXN | 10:00 PM | 2,000 | 0.3 |
| 70 | Thu | The Big Bang Theory | TBS | 9:30 PM | 1,975 | 0.8 |
| 71 | Thu | Last Word w/ L.O'Donnell | MSNBC | 10:00 PM | 1,946 | 0.2 |
| 72 | Wed | Property Bros. | HGTV | 9:00 PM | 1,935 | 0.4 |
| 73 | Thu | Flip or Flop | HGTV | 9:00 PM | 1,880 | 0.4 |
| 74 | Wed | The Big Bang Theory | TBS | 8:00 PM | 1,871 | 0.6 |
| 75 | Wed | NBA: GS v CHA | ESPN | 8:00 PM | 1,846 | 0.7 |
| 76 | Sun | Beachfront Bargain Hunt | HGTV | 8:30 PM | 1,845 | 0.4 |
| 77 | Sun | American Pickers | HIST | 8:00 PM | 1,827 | 0.4 |
| 78 | Sun | FOX Report Sunday | FOXN | 7:00 PM | 1,820 | 0.2 |
| 79 | Sun | Justice w/Judge Jeannie | FOXN | 9:00 PM | 1,819 | 0.2 |
| 80 | Thu | ALONE | HIST | 9:00 PM | 1,811 | 0.5 |
| 81 | Wed | NCIS | USA | 9:00 PM | 1,801 | 0.3 |
| 82 | Mon | K. Michelle: My Life | VH1 | 9:30 PM | 1,772 | 0.9 |
| 83 | Sun | SAG Awards | TBS | 8:00 PM | 1,763 | 0.6 |
| 84 | Tue | House Hunters INTL | HGTV | 10:30 PM | 1,761 | 0.4 |
| 85 | Wed | Last Word w/ L.O'Donnell | MSNBC | 10:00 PM | 1,760 | 0.2 |
| 86 | Mon | Last Word w/ L.O'Donnell | MSNBC | 10:00 PM | 1,758 | 0.2 |
| 87 | Mon | House Hunters | HGTV | 10:00 PM | 1,749 | 0.4 |
| 88 | Tue | Rachel Maddow Show | MSNBC | 9:00 PM | 1,746 | 0.2 |
| 89 | Fri | Last Word w/ L.O'Donnell | MSNBC | 10:00 PM | 1,742 | 0.2 |
| 90 | Mon | House Hunters INTL | HGTV | 10:30 PM | 1,739 | 0.4 |
| 91 | Tue | The Real Housewives: BH | BRVO | 9:00 PM | 1,728 | 0.6 |
| 92 | Mon | Diesel Brothers | DISC | 10:01 PM | 1,727 | 0.7 |
| 93 | Sat | The Thundermans | NICK | 8:00 PM | 1,718 | 0.4 |
| 94 | Sun | Caribbean Life | HGTV | 9:30 PM | 1,704 | 0.4 |
| 95 | Fri | Real Time w/Bill Maher | HBO | 10:00 PM | 1,687 | 0.4 |
| 96 | Sun | Worst Cooks | FOOD | 9:00 PM | 1,685 | 0.6 |
| 97 | Sun | American Pickers | HIST | 7:00 PM | 1,685 | 0.4 |
| 98 | Wed | Homicide Hunter | ID | 10:00 PM | 1,676 | 0.4 |
| 99 | Sun | Caribbean Life | HGTV | 9:00 PM | 1,673 | 0.4 |
| 100 | Tue | Fixer Upper | HGTV | 8:00 PM | 1,667 | 0.4 |