Top 100 Primetime Cable: February 6 - 12, 2017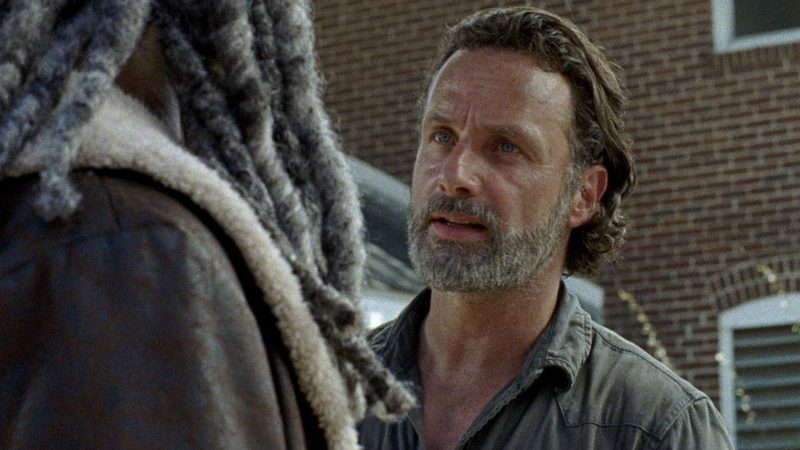 The return of THE WALKING DEAD tops this week's cable chart, as the winter premiere drew 12 million viewers and a strong 5.7 rating in Adults 18-49. That is up from December's fall finale, while going against the GRAMMY AWARDS, over on CBS. Outside of a few marathon reruns of TWD, the next cable original program on the chart is THE HAVES AND HAVE NOTS (#25), pulling in 2.7 million viewers.
FOX News continues to haul in great ratings as politics continue to take center stage. THE O'REILLY FACTOR takes spots three through six, all TUCKER CARLSON TOBIGHT episodes are within the top 15 and HANNITY is within the top 25. CNN's top program is Tuesday's DEBATE NIGHT (#30), and the top MSNBC program, THE RACHEL MADDOW SHOW, is right behind it 31st position.
TALKING DEAD rules unscripted TV, ranking second overall, with 4.8 million viewers. GOLD RUSH (#9) is next in the genre, with 3.5 million viewers.
WWE RAW is the top sports program, averaging about 3.1 million viewers, edging out the Duke vs North Carolina college basketball game, which collected just under 3.1 million viewers.
| | | | | | | |
| --- | --- | --- | --- | --- | --- | --- |
| Rank | Day | Show | Net | Time | P2* | A18-49 |
| 1 | Sun | The Walking Dead | AMC | 9:00 PM | 11,996 | 5.7 |
| 2 | Sun | Talking Dead | AMC | 10:13 PM | 4,804 | 2.2 |
| 3 | Mon | The O'Reilly Factor | FOXN | 8:00 PM | 4,446 | 0.4 |
| 4 | Thu | The O'Reilly Factor | FOXN | 8:00 PM | 4,373 | 0.5 |
| 5 | Wed | The O'Reilly Factor | FOXN | 8:00 PM | 4,251 | 0.4 |
| 6 | Tue | The O'Reilly Factor | FOXN | 8:00 PM | 4,182 | 0.5 |
| 7 | Sun | The Walking Dead | AMC | 7:35 PM | 3,807 | 1.5 |
| 8 | Tue | Tucker Carlson Tonight | FOXN | 9:00 PM | 3,569 | 0.4 |
| 9 | Fri | Gold Rush | DISC | 9:00 PM | 3,547 | 1.1 |
| 10 | Mon | Tucker Carlson Tonight | FOXN | 9:00 PM | 3,465 | 0.4 |
| 11 | Mon | WWE Raw | USA | 8:00 PM | 3,339 | 1.2 |
| 12 | Wed | Tucker Carlson Tonight | FOXN | 9:00 PM | 3,326 | 0.3 |
| 13 | Thu | Tucker Carlson Tonight | FOXN | 9:00 PM | 3,314 | 0.4 |
| 14 | Tue | Curse of Oak Island | HIST | 9:00 PM | 3,242 | 0.9 |
| 15 | Mon | WWE Raw | USA | 9:00 PM | 3,165 | 1.2 |
| 16 | Tue | Fixer Upper | HGTV | 9:00 PM | 3,161 | 0.8 |
| 17 | Thu | College BB: DUKE v NC | ESPN | 8:00 PM | 3,081 | 1.0 |
| 18 | Wed | HANNITY | FOXN | 10:00 PM | 3,081 | 0.3 |
| 19 | Tue | HANNITY | FOXN | 10:00 PM | 3,044 | 0.3 |
| 20 | Fri | The O'Reilly Factor | FOXN | 8:00 PM | 3,020 | 0.3 |
| 21 | Thu | HANNITY | FOXN | 10:00 PM | 3,010 | 0.3 |
| 22 | Mon | HANNITY | FOXN | 10:00 PM | 2,925 | 0.3 |
| 23 | Mon | WWE Raw | USA | 10:00 PM | 2,842 | 1.1 |
| 24 | Wed | Alaskan Bush People | DISC | 9:00 PM | 2,802 | 0.6 |
| 25 | Tue | The Haves & Have Nots | OWN | 9:00 PM | 2,749 | 0.7 |
| 26 | Tue | WWE Smackdown | USA | 8:00 PM | 2,627 | 0.9 |
| 27 | Fri | Tucker Carlson Tonight | FOXN | 9:00 PM | 2,540 | 0.3 |
| 28 | Sat | Justice w/Judge Jeannie | FOXN | 9:00 PM | 2,539 | 0.2 |
| 29 | Sat | Hallmark Movie | HALL | 9:00 PM | 2,521 | 0.3 |
| 30 | Tue | Debate Night | CNN | 9:00 PM | 2,452 | 0.6 |
| 31 | Thu | Rachel Maddow Show | MSNBC | 9:00 PM | 2,415 | 0.3 |
| 32 | Sat | Watters World | FOXN | 8:00 PM | 2,387 | 0.2 |
| 33 | Fri | HANNITY | FOXN | 10:00 PM | 2,381 | 0.2 |
| 34 | Sun | Fixer Upper | HGTV | 7:00 PM | 2,370 | 0.6 |
| 35 | Mon | Love And Hip Hop | VH1 | 8:00 PM | 2,336 | 1.2 |
| 36 | Wed | The Big Bang Theory | TBS | 9:30 PM | 2,332 | 0.8 |
| 37 | Mon | Rachel Maddow Show | MSNBC | 9:00 PM | 2,281 | 0.3 |
| 38 | Wed | The Big Bang Theory | TBS | 8:30 PM | 2,264 | 0.8 |
| 39 | Sun | The Real Housewives: ATL | BRVO | 8:00 PM | 2,251 | 1.0 |
| 40 | Sun | Alaska: The Last Frontier | DISC | 9:00 PM | 2,239 | 0.4 |
| 41 | Tue | The Big Bang Theory | TBS | 10:00 PM | 2,193 | 0.8 |
| 42 | Wed | The Big Bang Theory | TBS | 10:00 PM | 2,177 | 0.8 |
| 43 | Thu | Last Word w/ L.O'Donnell | MSNBC | 10:00 PM | 2,166 | 0.3 |
| 44 | Wed | The Big Bang Theory | TBS | 9:00 PM | 2,164 | 0.7 |
| 45 | Thu | ALONE | HIST | 9:00 PM | 2,117 | 0.6 |
| 46 | Thu | NBA: OKC v CLE | TNT | 8:13 PM | 2,106 | 0.8 |
| 47 | Fri | Rachel Maddow Show | MSNBC | 9:00 PM | 2,066 | 0.3 |
| 48 | Sat | Henry Danger | NICK | 8:00 PM | 2,060 | 0.4 |
| 49 | Tue | The Big Bang Theory | TBS | 9:00 PM | 2,035 | 0.8 |
| 50 | Tue | The Big Bang Theory | TBS | 10:30 PM | 2,027 | 0.8 |
| 51 | Tue | House Hunters | HGTV | 10:00 PM | 2,022 | 0.5 |
| 52 | Sat | Movie: Central Intelligence | HBO | 8:00 PM | 2,018 | 0.8 |
| 53 | Wed | Rachel Maddow Show | MSNBC | 9:00 PM | 2,013 | 0.3 |
| 54 | Tue | Rachel Maddow Show | MSNBC | 9:00 PM | 2,009 | 0.3 |
| 55 | Tue | The Big Bang Theory | TBS | 9:30 PM | 2,001 | 0.8 |
| 56 | Sat | The Big Bang Theory | TBS | 10:00 PM | 1,972 | 0.7 |
| 57 | Tue | The Big Bang Theory | TBS | 8:30 PM | 1,963 | 0.7 |
| 58 | Wed | NBA: CHI v GS | ESPN | 10:38 PM | 1,958 | 0.8 |
| 59 | Sun | Beachfront Bargain Hunt | HGTV | 8:00 PM | 1,936 | 0.5 |
| 60 | Sat | The Big Bang Theory | TBS | 9:00 PM | 1,935 | 0.6 |
| 61 | Mon | Last Word w/ L.O'Donnell | MSNBC | 10:00 PM | 1,933 | 0.2 |
| 62 | Sat | The Big Bang Theory | TBS | 9:30 PM | 1,917 | 0.7 |
| 63 | Thu | The Big Bang Theory | TBS | 10:00 PM | 1,913 | 0.7 |
| 64 | Sun | The Walking Dead | AMC | 6:05 PM | 1,906 | 0.7 |
| 65 | Fri | Real Time w/Bill Maher | HBO | 10:00 PM | 1,903 | 0.5 |
| 66 | Mon | House Hunters INTL | HGTV | 10:30 PM | 1,878 | 0.4 |
| 67 | Wed | Property Bros. | HGTV | 9:00 PM | 1,876 | 0.4 |
| 68 | Fri | CARS | DSNY | 8:30 PM | 1,875 | 0.4 |
| 69 | Thu | The Big Bang Theory | TBS | 10:30 PM | 1,873 | 0.7 |
| 70 | Mon | House Hunters | HGTV | 10:00 PM | 1,870 | 0.5 |
| 71 | Mon | Fast N Loud | DISC | 9:00 PM | 1,854 | 0.7 |
| 72 | Sat | The Big Bang Theory | TBS | 10:30 PM | 1,834 | 0.6 |
| 73 | Sat | The Greg Gutfeld Show | FOXN | 10:00 PM | 1,820 | 0.2 |
| 74 | Tue | House Hunters INTL | HGTV | 10:30 PM | 1,819 | 0.4 |
| 75 | Wed | The Big Bang Theory | TBS | 8:00 PM | 1,817 | 0.7 |
| 76 | Tue | Last Word w/ L.O'Donnell | MSNBC | 10:00 PM | 1,813 | 0.2 |
| 77 | Tue | Fixer Upper | HGTV | 8:00 PM | 1,811 | 0.5 |
| 78 | Sun | Not so Valentine | NICK | 7:00 PM | 1,802 | 0.3 |
| 79 | Sat | The Big Bang Theory | TBS | 8:30 PM | 1,795 | 0.6 |
| 80 | Sun | Beachfront Bargain Hunt | HGTV | 8:30 PM | 1,785 | 0.4 |
| 81 | Tue | CNN Tonight | CNN | 10:49 PM | 1,769 | 0.4 |
| 82 | Thu | AC 360 | CNN | 8:00 PM | 1,745 | 0.4 |
| 83 | Tue | The Big Bang Theory | TBS | 8:00 PM | 1,739 | 0.6 |
| 84 | Wed | USA Movie: John Wick | USA | 8:00 PM | 1,735 | 0.5 |
| 85 | Mon | NBA: CLE v WAS | TNT | 7:14 PM | 1,730 | 0.7 |
| 86 | Mon | Kids Baking Champ | FOOD | 8:00 PM | 1,721 | 0.4 |
| 87 | Sun | LRC: 2017 Grammys | E! | 6:00 PM | 1,703 | 0.6 |
| 88 | Mon | Leave It to Stevie | VH1 | 9:00 PM | 1,692 | 0.9 |
| 89 | Tue | Forged in Fire | HIST | 10:03 PM | 1,692 | 0.6 |
| 90 | Thu | House Hunters | HGTV | 10:00 PM | 1,678 | 0.4 |
| 91 | Wed | Last Word w/ L.O'Donnell | MSNBC | 10:00 PM | 1,678 | 0.2 |
| 92 | Thu | All In w/ C. Hayes | MSNBC | 8:00 PM | 1,670 | 0.2 |
| 93 | Thu | College BB: CAL v OR | ESPN | 10:03 PM | 1,653 | 0.6 |
| 94 | Thu | Flip or Flop | HGTV | 9:00 PM | 1,653 | 0.4 |
| 95 | Thu | House Hunters INTL | HGTV | 10:30 PM | 1,646 | 0.3 |
| 96 | Wed | House Hunters | HGTV | 10:00 PM | 1,646 | 0.3 |
| 97 | Fri | Last Word w/L.Odonnell | MSNBC | 10:00 PM | 1,639 | 0.2 |
| 98 | Sat | Game Shakers | NICK | 8:30 PM | 1,630 | 0.3 |
| 99 | Mon | Love It or List It | HGTV | 9:00 PM | 1,624 | 0.4 |
| 100 | Wed | LEGION | FX | 10:00 PM | 1,622 | 0.7 |
* - Viewership (,000)