Primetime Cable Ratings: September 26, 2016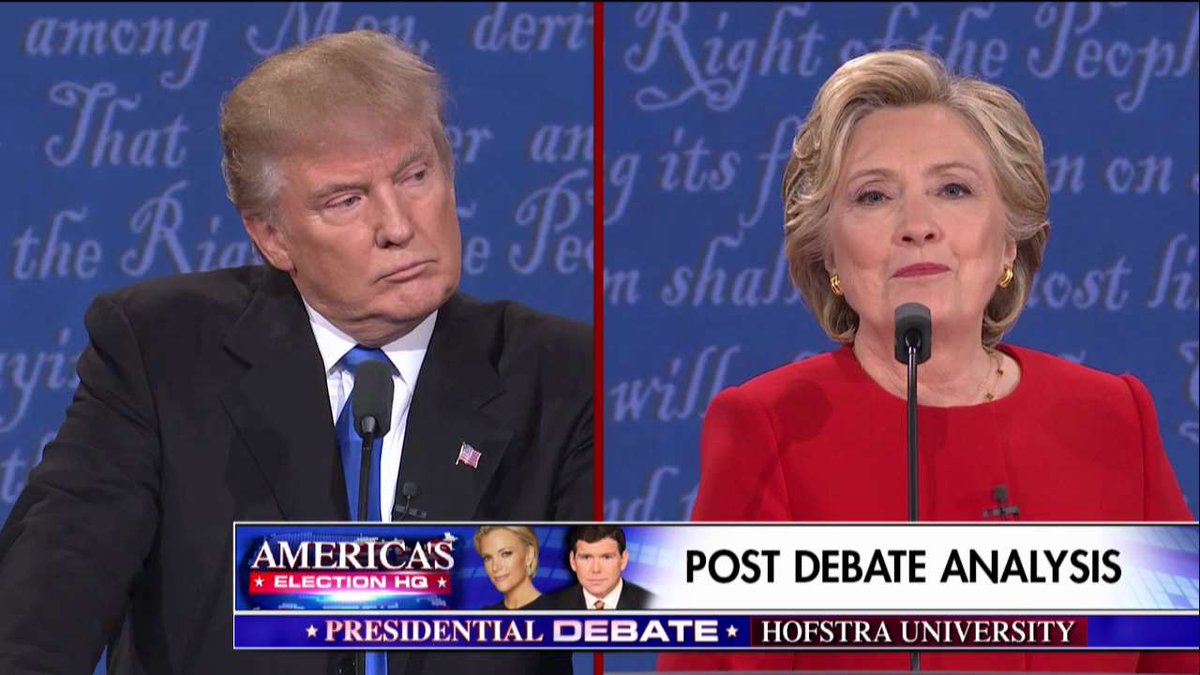 The presidential Debate ignited the three cable news networks, with FOX News leading the charge, with 11.4 million viewers and a 2.4 rating in Adults 18-49 and a post debate analysis of just under 10 million viewers. CNN brought in 9.9 million viewers, but a much better A18-49 ratings of a 32.6 score. MSNBC scored 4.9 million viewers and a 1.1 demo rating. So, for able, the combined numbers are 25.5 million viewers and a 7.1 rating in Adults 18-49. Combine that with the broadcast networks, and a total of just under 71 million Americans watched the debate, pulling in a combined 17.0 rating in Adults 18-49.
With the debate, MONDAY NIGHT FOOTBALL took a hit, drawing just over eight million viewers, a loss of over 4 million viewers, from the week before. It still ranked as the #4 cable program of the night.
The season premiere of REGULAR SHOW, on Cartoon Network, drew 1.1 million viewers and a 0.3 demo rating.
| | | | | | |
| --- | --- | --- | --- | --- | --- |
| Rank | Show | Net | Time | P2* | A18-49 |
| 20 | American Dad | ADSW | 10:00 PM | 1,088 | 0.5 |
| 16 | Bob's Burgers | ADSW | 10:30 PM | 1,208 | 0.5 |
| 15 | The Real Housewives/ OC | BRVO | 9:00 PM | 1,445 | 0.6 |
| 9 | AC 360 | CNN | 8:00 PM | 3,781 | 1.2 |
| 3 | Presidential Debate | CNN | 9:03 PM | 9,935 | 3.6 |
| 5 | Debate Night in America | CNN | 10:38 PM | 6,923 | 2.2 |
| 4 | MNF: ATL v NO | ESPN | 8:15 PM | 8,047 | 3.1 |
| 7 | The O'Reilly Factor | FOXN | 8:00 PM | 4,842 | 0.7 |
| 1 | Presidential Debate | FOXN | 9:03 PM | 11,427 | 2.4 |
| 2 | Debate Analysis | FOXN | 10:40 PM | 9,975 | 2.1 |
| 18 | House Hunters | HGTV | 10:00 PM | 1,116 | 0.2 |
| 21 | House Hunters INTL | HGTV | 10:30 PM | 1,033 | 0.3 |
| 14 | Debate Preview | MSNBC | 7:00 PM | 1,791 | 0.3 |
| 6 | Presidential Debate | MSNBC | 9:03 PM | 4,914 | 1.1 |
| 8 | Debate Analysis | MSNBC | 10:40 PM | 4,098 | 0.8 |
| 19 | Teen Mom | MTV | 9:00 PM | 1,109 | 0.7 |
| 17 | Regular Show | TOON | 8:00 PM | 1,142 | 0.3 |
| 10 | WWE Raw | USA | 8:00 PM | 2,850 | 1.0 |
| 11 | WWE Raw | USA | 9:00 PM | 2,381 | 0.8 |
| 12 | WWE Raw | USA | 10:00 PM | 2,203 | 0.7 |
| 13 | Love & Hip Hop: Hollywood | VH1 | 8:00 PM | 2,102 | 1.1 |
* Viewership (,000)