Top 100 Primetime Cable: May 2 - 8, 2016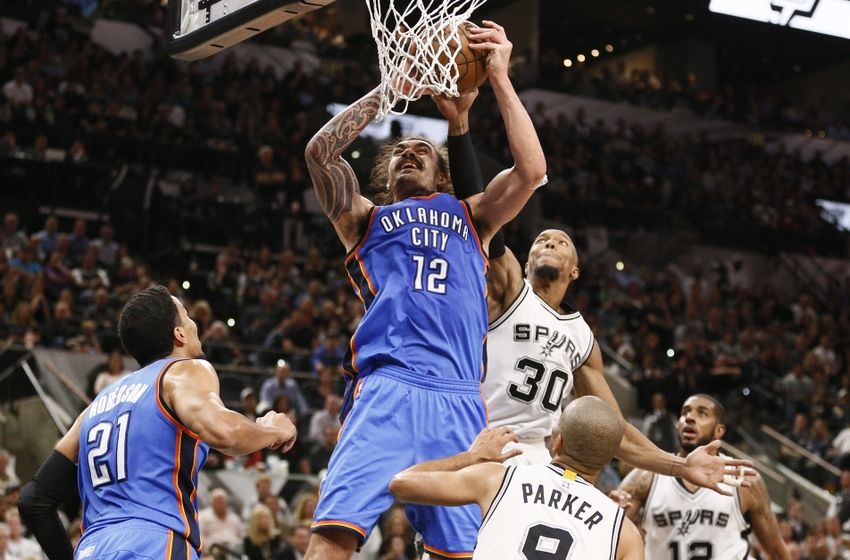 The NBA Playoffs are dominating the top ten spots of this week's cable chart, taking five spots, all with more than 3.5 million viewers each. The top game, a Monday night matchup of Spurs vs Thunder, collected 5.3 million viewers and the #3 spot.
GAME OF THRONES continues its run at the top of the chart, drawing 7.3 million viewers and a 3.7 demo rating. That bested FEAR THE WALKING DEAD (#6) as the top scripted series. After that, the third best scripted program was IF LOVING YOU IS WRONG, at #29.
THE KELLY FILE is the #2 program of the week, topping all other news programs. The FOX News nightly show hauled in 5.3 million viewers on a Tuesday night that saw TRUMP win big in Indiana and knock out Cruze to be the lone candidate for the Republican Nomination.
Ranking 19th overall, ALASKAN BUSH PEOPLE was the top reality series, drawing 3.1 million viewers, on a Friday night.
| | | | | | | |
| --- | --- | --- | --- | --- | --- | --- |
| Rank | Day | Show | Net | Time | Viewers* | A18-49 |
| 1 | Sun | Game of Thrones | HBO | 9:04 PM | 7,281 | 3.7 |
| 2 | Tue | The Kelly File | FOXN | 9:00 PM | 5,250 | 0.7 |
| 3 | Mon | NBA Playoffs: OKC v SA | TNT | 9:40 PM | 5,200 | 2.3 |
| 4 | Sun | NBA Playoffs: SA v OKC | TNT | 8:00 PM | 5,090 | 2.1 |
| 5 | Fri | NBA Playoffs: SA v OKC | ESPN | 9:40 PM | 4,993 | 2.1 |
| 6 | Sun | Fear the Walking Dead | AMC | 9:00 PM | 4,414 | 2.0 |
| 7 | Tue | The O'Reilly Factor | FOXN | 8:00 PM | 4,188 | 0.5 |
| 8 | Tue | NBA Playoffs: MIA v TOR | TNT | 8:00 PM | 3,760 | 1.5 |
| 9 | Wed | The O'Reilly Factor | FOXN | 8:00 PM | 3,598 | 0.3 |
| 10 | Wed | NBA Playoffs: AT vs CLE | TNT | 8:00 PM | 3,505 | 1.4 |
| 11 | Thu | NBA Playoffs: MIA v TOR | ESPN | 8:04 PM | 3,496 | 1.4 |
| 12 | Mon | WWE Raw | USA | 8:00 PM | 3,458 | 1.2 |
| 13 | Mon | WWE Raw | USA | 9:00 PM | 3,457 | 1.2 |
| 14 | Mon | WWE Raw | USA | 10:00 PM | 3,383 | 1.2 |
| 15 | Tue | HANNITY | FOXN | 10:00 PM | 3,381 | 0.5 |
| 16 | Tue | America's Choice 2016 | CNN | 9:00 PM | 3,318 | 0.8 |
| 17 | Fri | NBA Playoffs: CLE v ATL | ESPN | 6:59 PM | 3,184 | 1.2 |
| 18 | Sat | NASCAR SPRINT CUP: Kansas | FS1 | 7:42 PM | 3,142 | 0.7 |
| 19 | Fri | Alaskan Bush People | DISC | 9:00 PM | 3,103 | 0.7 |
| 20 | Mon | The O'Reilly Factor | FOXN | 8:00 PM | 2,992 | 0.2 |
| 21 | Thu | The O'Reilly Factor | FOXN | 8:00 PM | 2,942 | 0.3 |
| 22 | Wed | The Kelly File | FOXN | 9:00 PM | 2,776 | 0.3 |
| 23 | Fri | The O'Reilly Factor | FOXN | 8:00 PM | 2,742 | 0.2 |
| 24 | Mon | Love & Hip Hop: ATL | VH1 | 8:00 PM | 2,732 | 1.4 |
| 25 | Tue | America's Choice 2016 | CNN | 8:00 PM | 2,673 | 0.6 |
| 26 | Thu | The Kelly File | FOXN | 9:00 PM | 2,621 | 0.2 |
| 27 | Sun | Inside the NBA Playoffs | TNT | 10:36 PM | 2,420 | 1.0 |
| 28 | Thu | WWE Smackdown | USA | 8:00 PM | 2,346 | 0.7 |
| 29 | Tue | If Loving You Is Wrong | OWN | 9:00 PM | 2,303 | 0.6 |
| 30 | Wed | The Big Bang Theory | TBS | 9:30 PM | 2,297 | 0.8 |
| 31 | Wed | The Big Bang Theory | TBS | 10:00 PM | 2,296 | 0.8 |
| 32 | Mon | Black Ink Crew | VH1 | 9:00 PM | 2,288 | 1.2 |
| 33 | Sun | The Big Bang Theory | TBS | 10:00 PM | 2,236 | 0.8 |
| 34 | Mon | The Kelly File | FOXN | 9:00 PM | 2,219 | 0.3 |
| 35 | Wed | Inside the NBA Playoffs | TNT | 10:35 PM | 2,216 | 1.0 |
| 36 | Sun | The Big Bang Theory | TBS | 10:30 PM | 2,209 | 0.8 |
| 37 | Tue | Deadliest Catch | DISC | 9:00 PM | 2,208 | 0.7 |
| 38 | Thu | HANNITY | FOXN | 10:00 PM | 2,155 | 0.2 |
| 39 | Sat | The Big Bang Theory | TBS | 10:00 PM | 2,143 | 0.6 |
| 40 | Wed | American Pickers | HIST | 9:00 PM | 2,134 | 0.4 |
| 41 | Sat | The Big Bang Theory | TBS | 9:30 PM | 2,130 | 0.6 |
| 42 | Wed | HANNITY | FOXN | 10:00 PM | 2,119 | 0.3 |
| 43 | Wed | The Big Bang Theory | TBS | 10:30 PM | 2,117 | 0.7 |
| 44 | Mon | HANNITY | FOXN | 10:00 PM | 2,080 | 0.3 |
| 45 | Wed | The Big Bang Theory | TBS | 9:00 PM | 2,052 | 0.7 |
| 46 | Wed | The Big Bang Theory | TBS | 8:30 PM | 2,031 | 0.7 |
| 47 | Sun | Fixer Upper | HGTV | 7:00 PM | 2,011 | 0.5 |
| 48 | Sun | Family Guy | ADSM | 10:30 PM | 2,008 | 1.0 |
| 49 | Sat | The Big Bang Theory | TBS | 10:30 PM | 1,984 | 0.6 |
| 50 | Fri | The Kelly File | FOXN | 9:00 PM | 1,980 | 0.2 |
| 51 | Mon | Street outlaws | DISC | 9:00 PM | 1,962 | 0.9 |
| 52 | Sun | The Good Witch | HALL | 9:00 PM | 1,924 | 0.2 |
| 53 | Sat | The Big Bang Theory | TBS | 9:00 PM | 1,899 | 0.6 |
| 54 | Thu | House Hunters | HGTV | 10:00 PM | 1,887 | 0.4 |
| 55 | Sun | Sunday Night Baseball | ESPN | 8:00 PM | 1,881 | 0.5 |
| 56 | Tue | America's Choice 2016 | CNN | 10:00 PM | 1,877 | 0.5 |
| 57 | Sat | NASCAR Post-Race | FS1 | 10:45 PM | 1,874 | 0.4 |
| 58 | Mon | Swamp People | HIST | 9:00 PM | 1,823 | 0.5 |
| 59 | Wed | NHL Playoffs: WAS v PIT | NBCSN | 8:03 PM | 1,816 | 0.7 |
| 60 | Tue | The Big Bang Theory | TBS | 9:00 PM | 1,810 | 0.7 |
| 61 | Sun | The Big Bang Theory | TBS | 9:30 PM | 1,788 | 0.6 |
| 62 | Tue | Fixer Upper | HGTV | 9:00 PM | 1,782 | 0.4 |
| 63 | Sun | Lakefront Bargain Hunt | HGTV | 8:30 PM | 1,767 | 0.5 |
| 64 | Thu | House Hunters INTL | HGTV | 10:30 PM | 1,755 | 0.4 |
| 65 | Sun | Love & Hip Hop/ATL | VH1 | 8:00 PM | 1,752 | 0.9 |
| 66 | Wed | American Dad | ADSM | 10:30 PM | 1,749 | 0.8 |
| 67 | Sat | SportsCenter | ESPN | 7:47 PM | 1,724 | 0.7 |
| 68 | Wed | Pawn Stars | HIST | 10:03 PM | 1,724 | 0.4 |
| 69 | Wed | NCIS | USA | 8:00 PM | 1,713 | 0.3 |
| 70 | Sun | Family Guy | ADSM | 10:00 PM | 1,709 | 0.8 |
| 71 | Thu | American Dad | ADSM | 10:30 PM | 1,706 | 0.8 |
| 72 | Sat | The Big Bang Theory | TBS | 8:30 PM | 1,690 | 0.5 |
| 73 | Tue | American Dad | ADSM | 10:30 PM | 1,688 | 0.8 |
| 74 | Sun | Silicon Valley | HBO | 10:01 PM | 1,687 | 0.9 |
| 75 | Tue | The Real Housewives/BH | BRVO | 8:00 PM | 1,677 | 0.6 |
| 76 | Sun | Lakefront Bargain Hunt | HGTV | 8:00 PM | 1,658 | 0.4 |
| 77 | Sat | FX Movie Prime | FX | 10:00 PM | 1,656 | 0.7 |
| 78 | Sun | FX Movie Prime | FX | 8:00 PM | 1,654 | 0.7 |
| 79 | Thu | Flip or Flop | HGTV | 9:30 PM | 1,654 | 0.4 |
| 80 | Sun | Liv and Maddie | DSNY | 9:00 PM | 1,651 | 0.3 |
| 81 | Mon | NHL Playoffs: WAS v PIT | NBCSN | 8:03 PM | 1,647 | 0.7 |
| 82 | Mon | American Dad | ADSM | 10:30 PM | 1,646 | 0.8 |
| 83 | Wed | House Hunters | HGTV | 10:00 PM | 1,641 | 0.4 |
| 84 | Thu | ALONE | HIST | 9:00 PM | 1,637 | 0.5 |
| 85 | Sun | Naked & Afraid | DISC | 10:00 PM | 1,634 | 0.6 |
| 86 | Sun | Caribbean Life | HGTV | 9:00 PM | 1,629 | 0.4 |
| 87 | Thu | 60 DAYS IN | A&E | 10:00 PM | 1,628 | 0.8 |
| 88 | Sun | Caribbean Life | HGTV | 9:30 PM | 1,625 | 0.5 |
| 89 | Sun | Island Life | HGTV | 10:30 PM | 1,619 | 0.4 |
| 90 | Sun | Island Life | HGTV | 10:00 PM | 1,608 | 0.4 |
| 91 | Sat | The Big Bang Theory | TBS | 8:00 PM | 1,605 | 0.5 |
| 92 | Sun | American Pickers | HIST | 9:00 PM | 1,605 | 0.3 |
| 93 | Sun | Talking Dead: Fear | AMC | 10:00 PM | 1,597 | 0.7 |
| 94 | Fri | Alaskan Bush People | DISC | 8:00 PM | 1,586 | 0.3 |
| 95 | Sun | Sister Wives | TLC | 8:00 PM | 1,564 | 0.5 |
| 96 | Sun | Kardashhians | E! | 9:00 PM | 1,562 | 0.8 |
| 97 | Sun | American Pickers | HIST | 8:00 PM | 1,561 | 0.3 |
| 98 | Thu | American Dad | ADSM | 10:00 PM | 1,558 | 0.7 |
| 99 | Tue | Decision 2016 | MSNBC | 8:00 PM | 1,555 | 0.3 |
| 100 | Wed | House Hunters INTL | HGTV | 10:30 PM | 1,554 | 0.3 |
* - in millions